By Rex N. Gibson
Are our nitrate laden water supplies killing us? Sadly New Zealand now has one of the highest bowel cancer rates in the world; and it is growing. How is "God's Own country", of just 4.8 million people, which markets tourism, and its exports, as "100% pure" (and "clean and green") in such a medical crisis?
It's the sort of statistic – along with other unenviable ones – which belies the marketing claims. All is not well in "God's Own". Governments may turn a blind eye to statistics like bowel cancer rates but many, including scientists, are deeply concerned.
On a recent dull spring morning a small group of like-minded folk met in my garage. No we weren't plotting "the revolution"; or were we? You decide. The bench had been cleared and Victoria University's newest scientist recruit, Dr Mike Joy, led us through the process of determining nitrate levels in bore water samples. The study was commissioned, commendably, by Fish & Game NZ.
Left: Dr Mike Joy           Right: The portable Nico real-time nitrate test unit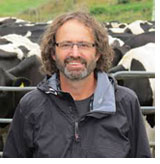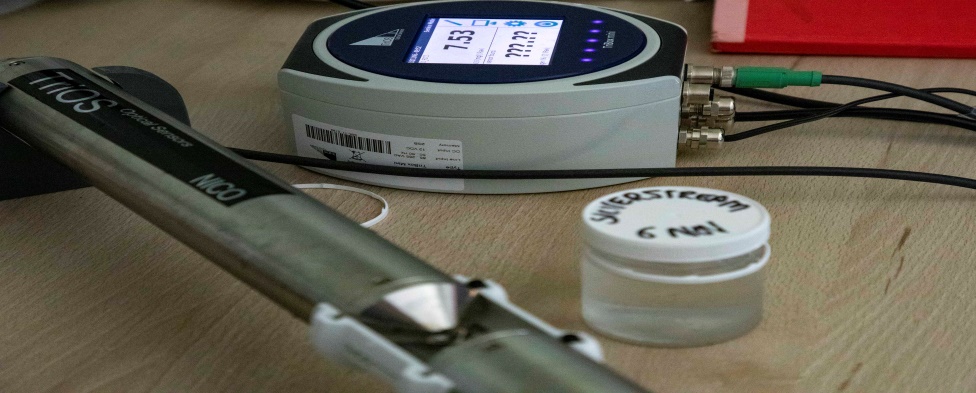 Mike had previously alerted me, another executive member of the NZ Federation of Freshwater Anglers, Fish & Game NZ HQ, and the news media, to a Danish study published in the International Journal of Cancer, relating to nitrate concentrations and a significant health issue for New Zealanders; colorectal cancer (often referred to as bowel cancer). New Zealand has one of the highest colorectal cancer (CRC) rates in the world. The question is "Why?" CRC is the second highest cause of cancer death in New Zealand, over 1,200 a year.
In New Zealand, Colorectal cancers cause as many deaths each year as breast and prostate cancers combined .It also kills more than suicides and the road toll combined.
Our eclectic group around the garage bench included a Fish & Game staff member, a sculptor and environmentalist, a Fish & Game councillor (also a farmer), a retired vet with aquiculture degree qualifications, and yours truly. We all share a commitment to improving the quality of our water resource. We had collected or received 114 samples of bore (drinking) water from across Northern Canterbury (Loburn to Ashburton, Christchurch to Methven), and more were dropped off during the morning. Mike had brought and set up a portable apparatus (a Nico real-time test unit) for measuring nitrate levels.
So, what did the Danes find? Dr Jörg Schullehner's team from the Department of Public Health at Aarhus University said "Our study shows that people who were exposed to the highest concentration of nitrate in drinking water (above 9.3 mg per litre of water) had a 15% greater risk of getting CRC".
They assessed nitrate exposure among 2.7 million adults based on 200,000 drinking water analyses from 1978 to 2011, and included 1.7 million individuals with the highest exposure levels in their main analysis. That was a very robust study. The cancer risks remained significant even at low levels of nitrate deemed acceptable by current drinking water standards.
This standard was 50 mg nitrate per litre of water, but the increased risk of cancer started at just 3.8mg/L of water. Schullehner added "Today, the problem is mainly concentrated in the small private wells, as well as places with high nitrate leaching and where the local soil and geological conditions mean that nitrate can more easily be leached to the groundwater". This exactly parallels the problem in New Zealand's intensive dairying areas.
Left: Sample testing                                                     Right: Recording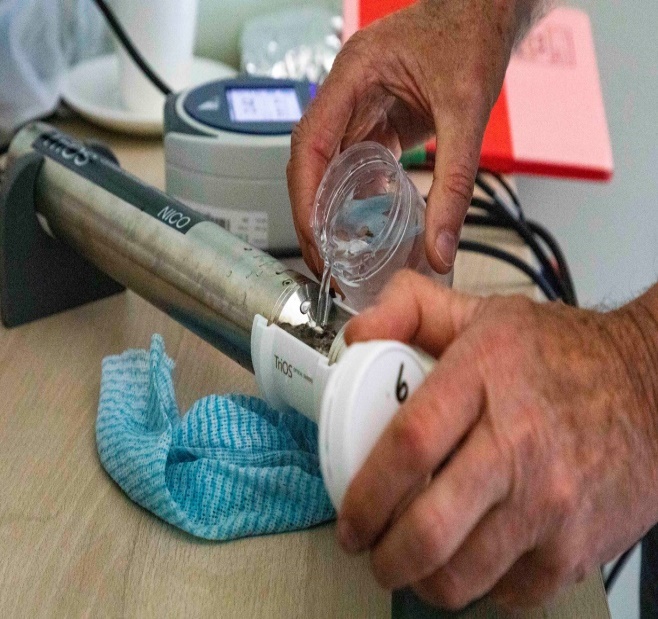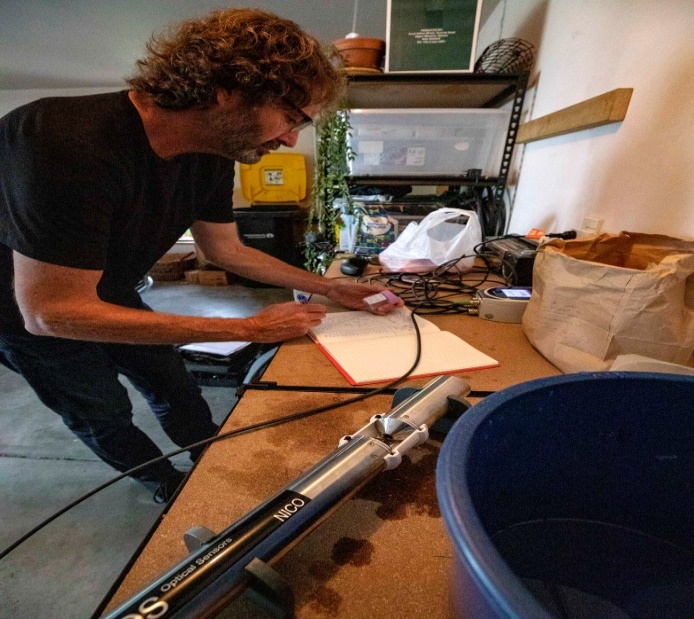 Each sample was tested and the results tabulated. Fifty-eight of the 114 registered readings were above the current threshold for potentially increased cancer risk; almost exactly half (50.8%). Aarhus University gave 3.8mg/L as the "lethal" point. Many of our Canterbury's samples exceeded this significantly!  Dr Joy said "the sad thing was that the results of the random sample came as no surprise". Fish and Game's chief executive Martin Taylor stated that the results showed "the cows are coming home to roost. Some detractors will say this is scaremongering. It is not!"
If the drinking water (nitrate) levels have the potential to kill us, or at least give us cancer, then what are the rivers doing to kayakers, rafters, picnickers and anglers who use these waterways? The health risk arises when nitrate is converted into carcinogenic substances that are known as N-nitroso compounds in the body. Colorectal cancer is one of the most common forms of cancer in Denmark and New Zealand, and the third most frequent worldwide.
The findings also back up Dr Alastair Humphrey, Canterbury's Medical Officer of Health, whose warnings over nitrate levels go back years, largely in regard to the acute effects of "blue baby syndrome". In this nitrates are converted in the gut of babies (and via pregnant women to foetuses) to nitrites which lock onto haemoglobin molecules and reduce the oxygen supply to developing organs, including the brain.
New Zealand's highest levels for CRC occur from Canterbury to Southland. The highest rates occur in "Pakeha" New Zealanders. This area is now also the heartland of "industrial dairy". Is industrial dairying "cancerous"? The Danish study gives us "direction". New Zealand just has to follow it.
Below: Labelled Canterbury samples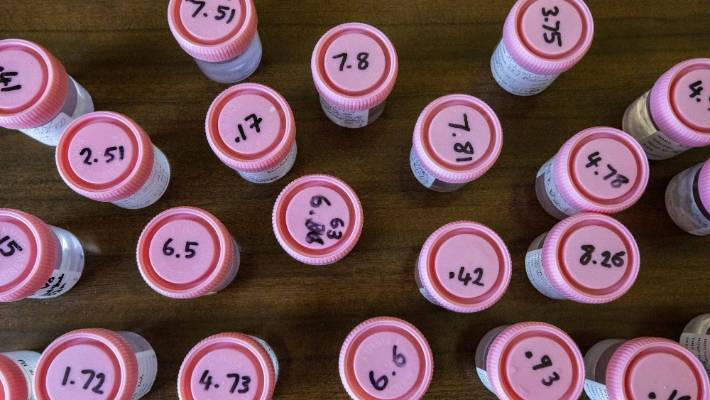 Canterbury, Otago and Southland have regional councils whose have often been considered AWOL when it comes to environmental health issues for the last couple of decades. Nitrate leaching into depleted water catchments has increased exponentially. Many of these areas rely on subterranean aquifers for drinking water. Most people living on the region's farms drink bore water from them, as well as those living in urban areas such as Christchurch.
The nitrate leaching from cattle urine and, especially, from over-application of water, urea and phosphate fertilizers on pastures is significant nationally. Is this a medical crisis; a true "time bomb" situation? CRC can take 20 years to appear. Perhaps the shareholders of the corporate farms (which dominate the South Island's east coast) who reside in Remuera, Karori, Fendalton, etc. are more concerned with "the bottom line", than the colorectal cancer levels in those who actually live on the land. It has an almost Dickensian feel to it. One commentator said "When they have felled the last tree, eaten the last steak, drained the last river, and poisoned the last aquifer, perhaps then they will realise that you cannot eat money".
Another F & G study, also led by Mike Joy, has now shown that Northern Canterbury's rivers are infected with two strains of anti-biotic resistant E. coli. Nick Smith's "swimmable rivers" targets were a joke. Now they are becoming a very sick joke (a deliberate pun). When will it stop? In a bizarre moment I recalled the old line about "Drink and be merry, for tomorrow you die". Just as Socrates was sentenced to death by drinking hemlock, will our nitrate laden water do exactly that to us?
Footnote: Rex N. Gibson is the Freshwater Spokesman for the NZ Federation of Freshwater Anglers. He is an ecologist and scientist and with a deep personal interest in rivers and public health.
Journal Reference: Jörg Schullehner, Birgitte Hansen, Malene Thygesen, Carsten B. Pedersen, Torben Sigsgaard. Nitrate in drinking water and colorectal cancer risk: A nationwide population-based cohort study. International Journal of Cancer, 2018; DOI: 10.1002/ijc.31306