Back in 1989 a DSIR entomologist Peter Notman carried out a study on 1080 poison widely used by New Zealand's Department of Conservation and OSPRI, the latter with the department's blessing.
Abstract:- Compound 1080 is widely used in New Zealand for the control of wild animals. The tendency of 10980 to poison non-target birds and mammals is recognised, but its effects on invertebrates have gone mostly unnoticed. At least 9 invertebrate orders are prone to 1080 poisoning. Invertebrates have been observed eating baits and their habitats contaminated by residues leaching from baits and from animal by-products and carcasses. Poisoned insects provide a means of secondary poisoning for insectivores.
Therefore 1080 should not be used where susceptible invertebrate species or rare insectivores are found.
General. In the paper Peter Notman identified invertebrates affected by 1080. The list included Paraphanta snails, ants, moths, beetles, cockroaches and mites. In the Discussion section, it was said "the impact of 1080 on invertebrates is likely to be far reaching, considering both the wide range of invertebrates reported as being susceptible to 1080 and the variety of micro-habitats in which 1080 is accessible to insects. Invertebrates that eat the baits are likely to be poisoned, leaf feeders are vulnerable to translocated, root feeders are at risk from poison adsorbed on roots and soil-dwelling organisms might be poisoned from leached residues.
"Larvae are susceptible—the disruption of larval growth and numbers will have an effect on future invertebrate populations and if there is significant disruption—lizards and insectivorous birds might starve. Reduction of soil and litter-dwelling decomposers may affect nutrient cycles."
Commenting on animal control by 1080, Peter Notman said "extermination is seldom achieved and repeated applications (of 1080) are necessary. The dilemma of using 1080 for animal control is that a large variety of non-target animals is prone to secondary poisoning."
"In the light of the evidence of the effect of 1080 on invertebrates and the complex role that invertebrates play in the ecosystem, the unrestricted use of 1080 is likely to be disruptive to the environment and where endangered invertebrate species are known to be present, 1080 should be used judiciously, if at all."
Footnote: CORANZ will be bringing other cases of "forgotten" research about 1080 to the fore. Below are extracts from "A Review of Invertebrate Poisoning by Compound 1080"
Among insectivorous birds are species such as bush robins, grey warbler, fatal, yellowed, rifleman, skylarks, pipits, tomtits and others.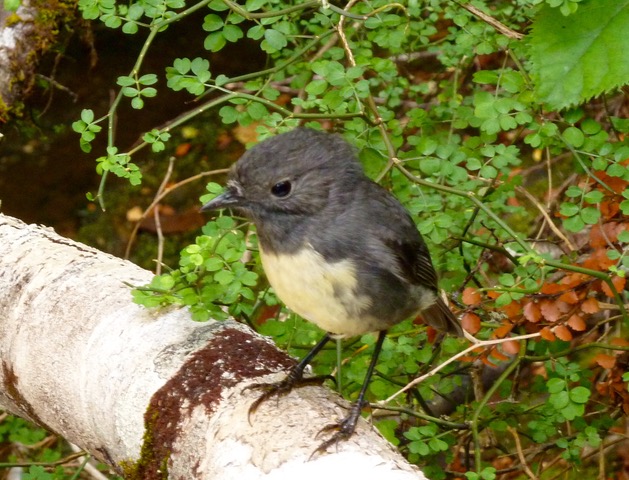 Insectivorous birds such as the bush robins, are at risk by secondary poisoning.
Photo Tony Orman