Blast From the Past
Introduction
In 2017 Tross Publishing published "The Quiet Forest – The Case Against Aerial 1080", written by Fiona McQueen. Fiona McQueen (MbChB,MD,FRACP) graduated from the University of Otago in medicine in 1980 and worked as a consultant rheumatologist within the NZ public health system. She has had a distinguished international academic career.
In her book, she told of an interview (2016) with wildlife expert the late Don Merton.
Wikepedia says "until his retirement in April 2005, Don Merton was a senior member of the Department of Conservation's Threatened Species Section, within the Research, Development & Improvement Division, Terrestrial Conservation Unit, and of the Kakapo Management Group. He had a long involvement in wildlife conservation, specialised in the management of endangered species since he completed a traineeship with the New Zealand Wildlife Service (NZWS) in 1960.
Don Merton is credited with saving the kakapo, the Chatham Island black robin and other native New Zealand birds from extinction. Forest and Bird said "He was a guru of the conservation movement."
He began ground-breaking work rescuing the Chatham Island black robin and kakapo from extinction in the 1970s, at which point just five robins remained, including a single successful breeding pair. Don Merton used innovative ideas, including cross-fostering with other bird species to save the robin.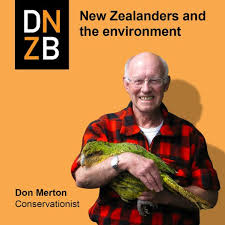 Extracts from the interview are:-
Don Merton:– The first lot of 1080 they put in the Arawhata in the 1980s -Waipara branch. The area was always bad for keas. They were lots of them. After that first big 1080 drop – well there were very few keas from then on. It tells you something.
I didn't actually see any dead keas but of course you realise that no one its ever going to see dead ones unless you have beacons on them.
Have you ever discussed this with others working in the bush?
Don Merton:- I have talked to a number of people including Department of Conservation people. One guy told me, after they did a poison drop, three or four days later, a DOC team would go in to count the dead rats, mice, stoats and possums. There was nothing on the form to document bird deaths. I asked if they saw dead birds and he said, "Yeah, yeah, we found a lot of dead birds" but there wasn't anywhere to record that.
The DOC guys just have to toe the line – otherwise they will lose their jobs.
Have you seen the effects off 1080 on deer?
Don Merton:- Yes. I have flown helicopters all around the upper Queenstown Lakes district and it was not uncommon to see 20 whitetail deer in the Rockburn, Beansburn area before they started poisoning the Dart Valley. (The Rockburn and Beansburn are tributaries of the Dart) Not long after that, I saw only two whitetail – before the 1080 drops we would see up to 30.
What about export markets for wild deer? Are they affected by 1080?
Absolutely! You can see wild deer overseas but there are stringent criteria set out to prevent poisoned deer getting out to the market.
I just heard from a friend involved in tunnel monitoring (recording paw prints of rats, mice and stoats to indicate population levels) in the Clark and Waipara valleys  – they found evidence of very few animals on the tunnel pads.
Guess what! They have just poisoned these valleys again.
This is a national tragedy – on an unprecedented scale.
It's hard to believe our senior politicians could get sucked in by so much bull shit.
What about pest control?
I agree 100 percent that rats and stoats are a serious problem but it's questionable whether 1080 is ever going to work long term – and I think it's doing major damage in the short term. But do you think we are going to get rats out of all New Zealand?
Anything else?
I started to look at it in my own mind. We could be doing more damage than good.
And DOC will not listen – they have got their own agenda.
I don't like the dishonesty and twisting of information.
It's an orchestrated litany of lies.
They have decided what they are going to do and they just do it.
All this 'public consultation' – it's rubbish.
I've had a good life but I am watching a disaster taking place.
My prediction is that the kea and a lot of bird life in regions which have been 1080-ed – well they are already endangered – we will lose them all.