Press release CORANZ
The government's reshuffling of ministers is a retrograde step for the environment, conservation and outdoors says the Council of Outdoor Recreation Associations of New Zealand (CORANZ).
CORANZ chairman Andi Cockroft described the cabinet reshuffle announced by new Prime Minister Chris Hipkins as "bizarre" in the light of mediocre ministerial performances in the past by some still remaining in highly ranked portfolios and/or cabinet rankings.
"Many of the one million plus New Zealander recreational fishing public will be very disappointed that David Parker has lost Ocean and Fisheries. Making the reinstatement of Nash to Ocean and Fisheries makes the switch even more illogical and puzzling," said Andi Cockroft.
Stuart Nash was minister of fisheries in the newly elected Labour-led coalition in 2017 but was replaced by David Parker in late 2020.
"Whereas David Parker showed he could in the public interest, stand up to ministry bureaucrats and corporate fishing industry influence, Stuart Nash in his three years as Minister 2017-2020, seemed a lapdog to both the ministry and industry," said Andi Cockroft.
CORANZ viewed the retention of David Parker as Minister for the Environment as good. However there was disappointment that the Conservation portfolio now held by Willow-Jean Prime, was a minister outside of Cabinet.
"The inescapable conclusion is that the Labour despite being in near coalition with the Green Party, does not rank conservation highly. In view of the state of deteriorating rivers and other environmental problems, that is very sad," he said.
It was also puzzling and disappointing that David Parker was now ranked number 14, well below mediocre, arguably incompetent, ministers above him he added.
The recreational hunting public and firearm owning public will view with deep misgivings the reinstatement of Stuart Nash to Minister of Police. As with the fisheries portfolio, Nash served as Minister of Police from 2017 to 2020 and was then replaced by Poto Williams. During Nash's tenure, the Mosque shooting by an Australian terrorist saw panicked, urgent but futile law passed about firearms.
"The rushed law was predictably poor law and in fact aggravated the situation with gangs and criminals better armed while government and police wrongly targeted the law-abiding firearm owning public."
Andi Cockroft said political history revealed that governments hoping to avoid election defeats which had rearranged cabinet, often were dismissed by the public at election time.
When Jack Marshall became National's Prime Minister in early 1972 he brought in four new Ministers but that did not stop his government losing to Norman Kirk's Labour Party in a landslide a few months later. Significantly environment and outdoor recreation issues were major election issues in Save Manapouri, trout farming and sale of public lands to foreigners.
In 1990, Labour' Prime Minister Geoffrey Palmer made major cabinet changes before the Labour government was routed at the election a few months later. In 1998 Prime Minister Jenny Shipley made one of the boldest pre-election reshuffles of recent times. It was to no avail. Helen Clark and Labour won the next election by a good margin.
"History strongly reflects that any Prime Minister who believes a government's flagging political fortunes can be revived by an election year reshuffle is being a cock-eyed optimisti," he said.
Prime Minister Hipkins described his latest cabinet make-over as demonstrating the depth of Labour's talent that has brought some new energy and focus to the task ahead.
"That statement's downright puzzling and illogical in reinstating ministers to old previous portfolios and downgrading some of his more competent ministers.
Some critics have likened the reshuffle to rearranging the deck chairs on the Titanic. I'm sure the PM is well-meaning but they're arguably counter-productive adjustments to an election endeavour that may well be doomed to fail."
He said contrary to the PM's claims the cabinet reshuffle suggested a lack of depth of ability.
"But very importantly CORANZ is extremely disappointed that government has a low priority for conservation when so many matters such as deteriorating rivers, monocultures of pines through the carbon trading farcical fad, foreign ownership, the Urewera National Park shambles, corporate monopolistic sea fish quotas and other issues need urgent attention," said Andi Cockroft.
Contact: Andi Cockroft: 027 204 1878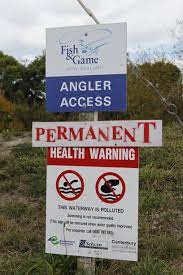 "Deteriorating Rivers Urgently Need Attention" – CORANZ