– special report
A few days ago, Canada's Saskatchewan provincial government announced it would not support the Canadian government 's buy-back firearms scheme.
"The Saskatchewan government fully supports anti-crime initiatives," said Minister of Corrections, Policing and Public Safety Christine Tell, "that truly focus on the issues related to the criminal use of illegal firearms, preventing and combating gang violence and addresses the issue of illegal or smuggled guns in our province."
"We do not and will not support initiatives that only impact the law abiding, Royal Canadian Mounted Police vetted, hunters, sports shooters, ranchers, farmers and others who use firearms for lawful and good reasons."
Earlier the province of Alberta made a similar stand telling the Trudeau-led government that Royal Canadian Mounted Police personnel and resources will not be removed from the very real job of protecting and defending the public safety "in order to pander to the Liberal government's useless virtue-signalling agenda."
Sources say the province of Ontario is likely to take a similar stand thus defying President Trudeau's agenda.
In Canada, provincial governments are pushing back against the Federal Governments attempt to confiscate private legally owned property in the form of certain types of firearm.
Phil Cregeen, spokesman for Sporting Shooters Association of New Zealand said the situation following the 2019 Mosque shooting resulted in rushed, poor law.
"Sadly in the emotionally charged atmosphere following the Christchurch mosque attack all of New Zealand MPs, bar one Act member, chose to support Jacinda Ardern's rushed and ill considered confiscation of all classes semi automatic hunting rifles under the false premise that it would make New Zealand safer," he said "Recent events clearly demonstrate that despite all the new laws controlling the lawful ownership of firearms New Zealand public safety has not been improved."
Sporting Hunters Outdoor Trust spokesman Laurie Collins of West Coast agreed and said since New Zealand hurriedly passed the "gun buy-back" scheme into law following the 2019 Mosque massacre by an Australian gunman Brenton Tarrant,, there had been a spate of shootings by gangs in the Auckland area.
"It was an abysmal failure due to incompetence. It didn't work, nor will the firearm registration now proposed in New Zealand," he said. "The gun buy-back scene here achieved nothing except penalise 250,000 law abiding firearm owners."
Canada should be studying the New Zealand government's failures with buy-backs and firearm ownership.
Laurie Collins said it should be revealed how the Mosque gunman, an Australian reportedly under surveillance, was granted by NZ Police, a New Zealand firearm licence.
There has been widespread criticism of how and why Tarrant was granted a firearm licence despite glaring deficiencies in his application.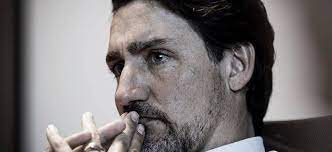 Canada's PM Justin Trudeau — wants "gun buy-back" but Provinces are saying "No!"