Media release
Council of Licensed Firearm Owners (COLFO) 
The Council of Licensed Firearm Owners (COLFO) is concerned at the unsubstantiated and incomplete evidence that emerged in an interview on live television this week with President of the NZ Police Association, Chris Cahill.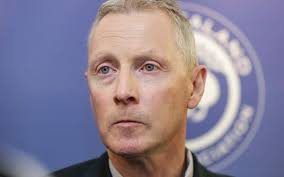 Chris Cahill-firearm registry would have stopped dairy owner killing
Cahill's interview on TVNZ Breakfast's show last Monday included the misleading claim that a firearm registry would have stopped the killing of a dairy owner and the shooting of Police Constable Matthew Hunt.
There is no evidence to support this claim. For all their extraordinary expense, firearm registries do not reduce shootings. Neither is there a mechanism by which a registry could prevent a shooting, as at best they can only ever identify the source of a firearm after it has been misused and found.

Hugh Devereux-Mack 
COLFO spokesperson Hugh Devereux-Mack says Cahill needs to moderate his bold advocacy into line with expectations of New Zealand citizens for trustworthiness of Police and media. 
"The claims could generate unwarranted fear amongst those with little experience with firearms.
"The research alluded to in the interview was irrelevant, incomplete, and unreferenced.
"There was no mention of real-world experience such as the Canadian registry that was reduced to handling only restricted firearms after 13 failed years that cost $2b."[1]
Devereux-Mack says the public deserves a higher quality discussion of the Registry, as it is budgeted to cost $711m in the first ten years.   
"Police have admitted they can't trace 82% of the firearms they seize, because 90% have had serial numbers removed. A registry mostly works on serial numbers."
Cahill claimed the registry would make firearm owners improve security, so firearm thefts would consequently decrease.
"Security is already assessed by Police and deemed adequate to obtain a license. There's no additional security requirement in a Registry.
"Cahill cited a mystery reduction in firearm theft in Australia following the introduction of a registry, although there is no Australia-wide registry. There is also no reduction in firearm theft: it increased over the decade to 2018, from just over 1,700 a year in 2007-08 to nearly 3,300 in 2016 -17."[2]
/ENDS
[1] https://nationalpost.com/opinion/gary-mauser-why-the-long-gun-registry-doesnt-work-and-never-did
[2] https://www.aic.gov.au/publications/sr/sr24
For further information contact COLFO spokesperson: Hugh Devereux-Mack. 027 362 0853