Special report
LegaSea has welcomed the closure of the Coromandel scallop beds to fishing as recently announced by the Minister of Oceans and Fisheries Stuart Nash.
The scallop fishery extends from Leigh in the north, through the Hauraki Gulf and down to Maketū in the Bay of Plenty.
This is the end of a long process that began with a brave move by Coromandel iwi, Ngāti Hei, to place a rāhui across Opito Bay in 2020 to protect scallops. This was done with the support of community groups, who were equally concerned about the declining scallop beds around the Coromandel.
This triggered a temporary 186A closure application by Ngāti Hei in February 2021. It was approved in September, followed up with rāhui by Ngāti Pāoa and Ngāti Manuhiri across the Hauraki Gulf.
After a number of surveys, the true depletion of our scallops from Coromandel to Northland was revealed. Last year, the Northland scallop beds were closed to recreational and commercial fishers. Two beds in the Hauraki Gulf remained open until another survey found they were in trouble. All beds are now closed indefinitely.
"We can only hope the damage is not too severe and our scallops will bounce back soon. But we must learn from our mistakes and not let this happen again," said LegaSea.
Māori customary fishing is still permitted although a rāhui restricts harvest in many areas of the fishery.
"This decision is a win to protect the remaining scallops in the fishery. But it's sad that once again officials administering the Quota Management System have failed to reduce catch in a timely manner. Consequently, severe depletion means a closure is the only remaining "The signals of serial depletion have been clear for 30 years. The protective mechanisms available under the Hauraki Gulf Marine Park Act have been available for 23 years. Yet, comparisons of biodiversity loss in successive Hauraki Gulf Forum reports since the early 2000s are damning."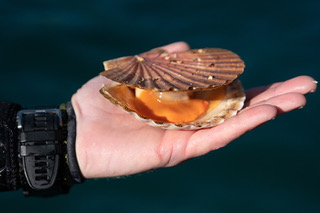 Hauraki Gulf Plan
Last month over 7000 New Zealanders united to submit against the draft Hauraki Gulf Fisheries Plan, compiled by Fisheries New Zealand (FNZ) supposedly as a means to deliver a healthier marine environment.
FNZ's proposals will allow bottom trawling, scallop dredging, and Danish seining to continue in the Park, despite ongoing damage caused by these fishing methods.
It is not progressive to have a plan advocating for a healthier marine environment while allowing ongoing damage to benthic habitats and communities.
The positive news is over 30,000 people have already signed the Hauraki Gulf Alliance petition calling for a ban on destructive fishing methods. Thanks to all of you who signed the petition and/or made a submission.
"There is increasing pressure on the Government to get trawling and dredging out of the Hauraki Gulf Marine Park. Now it's up to Minister Stuart Nash to decide on the fate of FNZ's draft plan," said LegaSea. "We need to show the Government there is a growing public appetite for banning bottom trawling and dredging from Gulf waters. If you haven't already, please sign the petition here."