Interview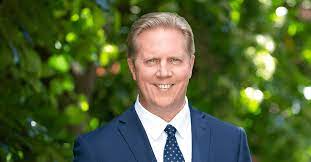 Earlier this year, the National Party announced if elected government in the election later this year, it would set up a Minister of Hunting and Fishing. Shadow minister is Rotorua M.P. Todd McClay who Tony Orman spoke to recently in Blenheim and put some questions to him.
Editor's note:- It should be noted the Council of Outdoor Recreation Associations of NZ (CORANZ) is 'apolitical' relative to political parties. It has no affiliations with any political party. However CORANZ believes in"politics is simply cause and effect" and leading up to the election will publish any outdoor related matters relating to any political party's policy
Todd, how did the concept of a Hunting and Fishing Minister evolve?
The hunting and fishing minister concept had its birth at last October's Sika Show in Taupo where I spoke to the Safari Club International Dinner and proposed the idea which was enthusiastically received. Leader of the National Party Chris Luxon also attended the Sika Show and engaged with the many hunters and was impressed with the need.
There are one million recreational fishers – trout, salmon in freshwater and saltwater anglers – in New Zealand and then there's 250,000 people who actively hunt or engage in firearm sports like clay bird shooting, rifle range shooting and many of them feel they've never been listened to. National's come to their rescue.
It's specific – it's around Kiwis who hunt and fish.
How would it work within government? Surely there''l be conflict with other ministries such as Fisheries or DoC?
Around the Cabinet table the new Hunting and Fishing Minister would be on an equal footing with other relevant ministers such as on firearms with the Police Minister, or on big game animal matters with the Conservation Minister of recreational sea fishing with the Minister of Fisheries. So for example, the Department of Conservation would answer to two ministers on wild animal management, access to public lands and so on.
We're still working through on details.
How about the matter of the prejudice against so-called introduced species?
Look the anti-introduced prejudice is not realistic. How long for example, do trout have to be here before they are recognised as a valued sport fish, here to stay and part of the 21st century ecosystem? The same with big game animals. Trout and deer have been here for over 170 years.
Let's get on with managing them, not despising them with "hate campaigns" futilely trying to exterminate them.
Frankly I don't like the word "pest". We should talk of resource and management.
You can't just leave deer and pigs to roam freely, but this doesn't mean you need to do what it sometimes feels DOC and others suggest which is to exterminate them completely. However, they need to be a managed species.
Besides extermination policies in terms of fish and game are pointless, a waste of money and futile.
Big game animals, e.g. deer, tahr, wapiti, etc., is an interesting one?
Well same thing. We should talk of herd management and in "herds of special interest". There are none at the moment but soon will be when National is in government. I envisage management of game animals would come under the new Hunting and Fishing portfolio.
I'm not in favour of setting up a new bureaucratic ministry that is costly and doesn't achieve much. But it's at the cabinet table where it will all happen for the new Minister of Hunting and Fishing.
Ah firearms! There's a lot of debate around police proposals to raise licence fees way up? How do you view that?
Well with this new, first-time, Minister of Hunting and Fishing would be on the same footing as the Minister of Police, simple as that.
At the moment there's the vexed question of government – and police – wanting to raise the firearm licence fees to some exorbitant, extraordinary height. There's some 250,000 licensed firearm owners and they obey the law.
Is government going to continue to target them discouraging lawful firearm ownership and driving them underground while ignoring the often unlawful unlicensed firearm owners in gangs and criminals?
The question is how did police arrive at the extraordinarily high proposed licence costs?
A firearm register? I'm not a fan for it. I'm open minded though but I'm very aware other countries have given up on the idea of a firearm register as it's hugely expensive and achieves nothing in lowering crime rates.
What's your background in hunting and fishing?
I developed an early interest in trout fishing when the family lived at Paeroa and Taumarunui. Then as a 14 year old, I discovered the Waitahanui River at Taupo. Dad (Roger McClay M.P.) would drop me off at the Slab Pool upriver and I with a mate for two, would fish down to the state highway bridge near the lake where we'd be picked up.
I was always into duck shooting, accompanying my friends and when I was at Wellington studying at the polytechnic I purchased an old .303 and took to the hills of the Wairarapa at every opportunity.
We saw some deer, but never got one. We were too green as hunters. (laughs)
I returned to the central North Island and eventually bagged my first deer, a sika hind.
After working overseas, when I came home, my firearms licence had expired because the system had changed. I sat it again about the time I was standing for Parliament got back into hunting and really enjoyed it.
Do you get out hunting now?
Not as much as I'd like to. With parliamentary commitments I'd love more time for the outdoors.
I'm aware I'm not getting time to do enough – much less now than I used to. It's now something that I like to do with family – with my growing children.
Tell me about your family and hunting?
So, while I don't have as much time as I might like to go hunting, I do get out at least a few times a year. Each of my four children have had a chance to come with me if they wanted to and shoot a deer. My middle son, Sam, got to shoot his first deer when he was 13 or 14 years old on the TV programme "Hunting Aotearoa".
For me and the kids, it's not so much about shooting the animals. Although we're all very chuffed when we bring one back.
We've gone out and seen quite a few animals and decided not to shoot them for various reasons such as a hind with a young fawn at foot or hidden away. When I first started taking the kids out, we often wouldn't take a firearm, only binoculars, and I'd get them to watch and learn about the habits of deer and so on. Other times with a rifle, we'd bring deer back, but don't feel that we have to.
I've also taught them how to butcher a deer. As a family we enjoy eating venison.
For me, it's a sort of escaping the cell phone and other distractions, you've got a couple of your children with you and it's top quality time.
What's this I hear about a National Party Parliamentary Hunt?
First let me say on management, I think a Game Animal Council is a really good way to manage the herds, but what's really important is that hunters would have representation and a say, because they haven't up until then
The Parliamentary hunt. One of the things A few of us in National decided thought a parliamentary hunt, to raise awareness and appreciation of what hunting is all about, was a good idea. It's worked off and on over a period of time, interrupted by Covid.
I decided to get quite involved – After all I could go hunting and call it work! We went on the southern side of Lake Taupō and invited our MPs – some of them had never been in the bush before. We've even had female MPs who brought their daughters along, went out hunting and shot their first deer, such as a yearling sika and took the meat home to eat as a family. A great experience for them!
Firearm safety?
When my son and I were on the TV programme [Hunting Aotearoa], I insisted I bring the kids and emphasise firearm safety. That's always been very important to me – to teach firearm safety early from quite a young age. Teach them to respect firearms.
And I can still picture the joy on my son's face when he downed his first deer
We talked about meat for the freezer. Do you know I've only ever shot two stags in my life. As a family we hunt for meat, so we choose the animal we think will give the best venison.
How About Fiordland's wapiti herd?
The wapiti in Fiordland is a fine example of cooperation between government and the hunting public. I've talked hunters who've gone into Fiordland and left young potentially good trophy heads alone, as they can see it's going to be superb trophy in a few years time.
At the same time it will continue to grow, mate and inject quality into the bloodline. That's a great unselfish, positive attitude by hunters.
A Hunting Licence?
I'm not really a fan of the Fish and Game model for funding i.e. a licence although if that happened, I might voice my opinion without jumping up and down about it. I don't think you should have to have a licence to go onto public land and shoot a deer. If we do that, I think we've lost something the freedom to head for the bush on public lands and take an animal. There needs better funding for the Game Animal Council with no government interference.
There are probably over one million New Zealanders who enjoy fishing and hunting often or every now and again. Extend that to families getting involved outdoors – it's a massive number of Kiwis. Surely a Minister for Recreational Hunting and Fishing is logically a great idea? It really boils down to over a million New Zealander and their hunting and fishing, lack a voice at the cabinet table.
Now you could have a minister representing them at the cabinet table – surely a much needed thing.