by Tony Orman
Nineteen scientists from European countries such as Germany and Netherlands, USA, South Africa, Australia, Philippines and Brazil have given a strong warning about dramatic declines of insects.
The warning in February 2020 and published in "Biological Conservation" seemed to get little publicity despite the scientists deep concerted concern.
"We need immediate action.The current extinction crisis is deeply worrisome. Yet, what we know is only the tip of the iceberg."
Despite the known threats and consequences of insect extinction, decision-makers and civil society are only now becoming aware of the scale of the problem. Conservation efforts have largely been focused on charismatic megafauna, especially birds and mammals, with little thought on ecosystem connectivity.
" Even within insects, some taxa have been favoured, such as butterflies and, more recently, pollinators."
Legislation and agreements in the US (Endangered Species Act) and Europe clearly reflect such biases.
 "Partly to blame for these biases is a lack of capacity and data, which, in the view of policymakers, leads to a lack of funding, which in turn, feeds back into lack of capacity and data, in a continuous cycle".
Solutions!
Solutions include the removal of the root causes of the problem, the indirect drivers, as essential components of a transformative change of our economy and society.
"Many solutions are now available to support insect populations at sustainable levels, especially through preserving and recovering natural habitats, eliminating deleterious agricultural practices including harmful pesticides, implementing measures for avoiding or eliminating the negative impacts of invasive species, taking aggressive steps to reduce greenhouse gas emissions, and curbing the deleterious effects of overexploitation of many taxa."
Multiple countries are already adopting concrete measures for averting further insect population depletions. As an example, many European countries are banning or phasing-out glyphosate-based weed killers.
"Solutions are now available – we must act upon them," said the scientists.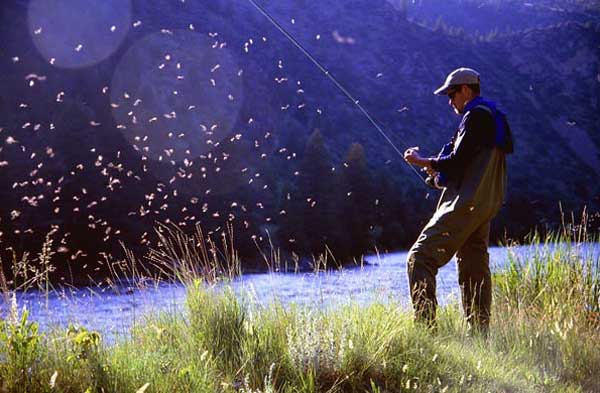 A Caddis fly hatch in the USA. Insect hatches on New Zealand trout streams have shown dramatic declines according to
anecdotal reports. People comment on the lack of moths and insects in car headlights at night and around street lights and homes after dark
compared to past decades. Even blowflies are noticeably fewer..