Extract from recent Taxpayers' Union Newsletter

Hopping mad: COVID-19 funding to 'destroy' wallabies for $153,000 a pop
After almost six months' worth of excuses, transfers and extensions on an Official Information Act request sent back in November, your humble Taxpayers' Union has revealed that taxpayers and Otago ratepayers have forked out more than $2.76 million and employed over 26,000 hours of work to 'destroy' (that's the term the bureaucrats use) just… 18 wallabies! That's a kill cost of $153,000 per wallaby.
This was just one of the 'Jobs for Nature' projects funded by the COVID slush fund. Jobs for Nature was allocated $1.2 billion – that's $614 for every kiwi household – as a 'make work' scheme when the Government feared we would see mass job losses as a result of the pandemic.
Despite record-low unemployment and an economy overcooked by Government spending, the fund has continued to dish out taxpayer money to ineffective 'conservation' projects at an average cost of around $200,000 per 'nature job'.
There is still $167 million yet to be spent: We say this should stop.
Jordan spoke about this wasteful spending with Newstalk ZB's Heather Du Plessis-Allan.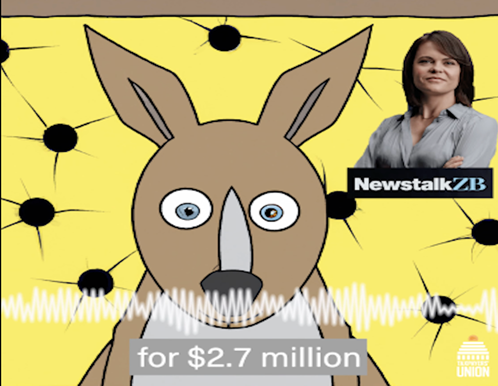 The story was also covered in the Otago Daily Times and Stuff's Dominion Post.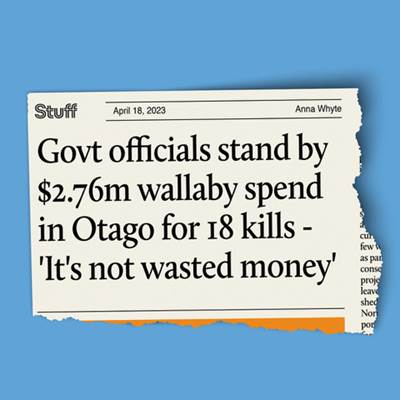 Hopping to it: officials defend spending with misleading spin
John Walsh of Biosecurity New Zealand (the government agency responsible for this project) defended the spending arguing "it's not wasted money". Walsh was quoted in Stuff newspapers as saying the kill count no way represented "all the wallabies killed by the programme" and due to wallabies' nocturnal nature and the remote landscapes, aerial drops were often the best method of killing.
We called out these misleading comments pointing to the official information response provided by his agency that showed that no aerial drops were actually used in Otago…
It is clear that this project, alongside many others supported through the Jobs for Nature fund, have no ambition in delivering meaningful outcomes for New Zealand's environment on a restrained budget.