by Tony Orman
A couple of years ago, I visited the MacKenzie country in central South Island. Two observations left an indelible impression.
Accompanied by my labrador, I went for a climb up into a beech gully that looked likely deer habitat. A couple of years ago, I set off to have a look at the same area but was met with notices warning of a 1080 drop. 1080 is especially lethal to dogs so I canned the walk.
But this year I decided to try again. On the way in a patch of beech by the stream but in open country, I spied a South Island bush robin. I climbed up beside the stream and entered the forest proper. I saw one bush robin. I heard a chaffinch call but that's not a native. I climbed, sidled and carefully listened and observed. A set of animal tracks still showed in the forest floor.
I saw no life and heard no life.
It was well, like a morgue. A scene of death.
A Contrast
It reminded me of another instant several years ago, trout fishing near Reefton. We had fished the Waitahu – a tributary of the Ingangahua — and bird life was delightfully abundant. Next day we fished Stony Creek a west bank tributary of the parent river. It had been top-dressed with 1080 a few months earlier. It was sombre and silent, yes with a morgue like atmosphere.
It's necessary to understand 1080. It was first developed in the mid-1920s as an insecticide and in the 1940s was found to kill animals so it became a rodent poison. In the late 1950s the NZ government used it in the Caples Valley (Lake Wakatipu area) to poison fallow deer. But its property as a lethal insecticide still remains.
Scientist Peter Notman in 1989 reported sub-lethal poisoning in weta.
Scientist Mike Meads warned that aerial 1080 was probably killing organisms associated with the natural decomposition of the forest floor litter. Sutherland (1993) suggested aerial drops of 1080 might affect insect communities and so on. 1080 is highly toxic to insects, including bees. An eminent invertebrate specialist, the late Mike Meads (1938-2009), found that when a 1080 operation is undertaken, dust and particles are enough to kill invertebrates on the ground, weeks after the drop. Meads recommended, back in 1994, that long term studies should be done in regard to the effects of 1080 on invertebrates. When interviewed in 2008 he said…."In 1994, when I did my study, I recommended long term studies should be done…..it's now 2008, have any studies been done?…not a one!"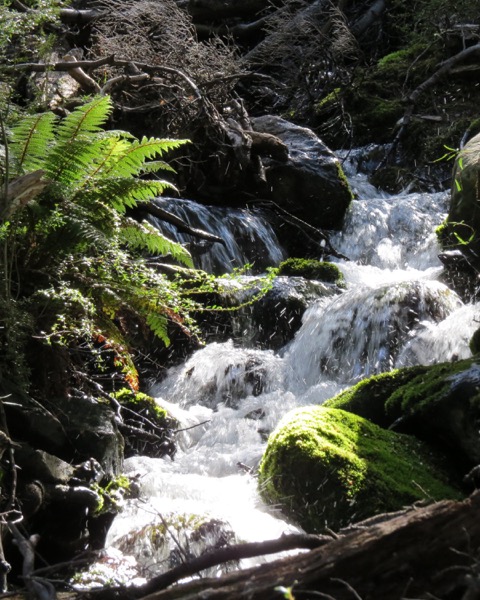 The Mackenzie basin stream gully – "like a morgue after 1080"
So no one knows.
And it undoubtedly kills birds as I found out in Stoney Creek and now in the Mackenzie Basin. 1080 is not a selective poison, i.e. killing only the target animal. While it kills an animal rightly or wrongly judged as a "pest", it kills everything else which comes in contact with it. Even fish and other aquatic life are affected.
A friend owned a property in northern Westland just north of Greymouth. A stream passing through his property teemed with eels, galaxids (e.g. cock-a-bullies, inanga) and courier (freshwater crayfish). 1080 was dropped upstream of his property on public lands. Within six months he noticed fewer fish life. Twelve months later fish life was a fraction of its original populations. Coincidence? Or was 1080 to blame. The truth is no one really knows.
Not only is there a lack of research but the science used to justify 1080 drops is very suspect. Pat and Quinn Whiting-O'Keefe are retired scientists living in the Coromandel. They described DOC's claims of benefits from 1080 to be "a familiar litany of scientifically insupportable claims."
They audited the Department of Conservation scientific research and produced an 88-page monograph reviewing more than 100 scientific papers.
"The results are startling and belie most of the department's claims. First, there is no credible scientific evidence showing that any species of native bird benefits from the dropping of tonnes of 1080 into our forest ecosystems, as claimed by the department and Forest and Bird."
Second, considerable evidence exists that DoC's aerial 1080 operations are doing serious harm, as one would expect, given that 1080 is toxic to all animals. It kills large numbers of native species of birds, invertebrates and bats."
"In addition considerable evidence shows there are chronic and sublethal effects to vertebrate endocrine and reproductive systems, possibly including those of humans."
Mass Poisoning
As far as the two scientists could determine, "no other country in the world was doing (or had ever done) anything remotely similar – mass poisoning of a semi-tropical ecosystem on the scale that the department is now doing to New Zealand".
Statements like those of Forest and Bird that the forests will be "dead" without poisoning them with 1080, and from DoC that 1080 is existentially necessary to Kiwis is "pure demagoguery and scientific nonsense" said the scientific duo.
Debate over 1080 and trout eating mice slowly dying from a 1080 dosage have centred on human health. Yet research has shown eels have had 1080 residues three times permissible levels after 1080. Koura reported as 75 times permissible 1080 levels.
Now 1080 apart from its "evils" of being a broad, "unselective" poison has a secondary poison characteristic. That is an animal or fish, eating a poisoned prey, takes in the poison too. Not always is a 1080 dose sufficient to kill. This is termed a "sub-lethal" dose. However while a creature may survive, the sub-lethal dose impairs health. In males
The apparently only but limited research on mallard ducks showe sub-lethal doses (not enough to kill) reduces or eliminates fertility in the male of a species. Thus sublethal doses to any birds will lower their breeding rate because males become infertile. It's known as an endocrine disruptor.
The NZ Federation of Freshwater Anglers raised the question of trout eating mice with 1080, carrying residues of 1080. This was not a flippant question. Research had showed eels after a 1080 drop had 11 times permissible levels of 1080. But the Federation raised in particular the danger of humans eating a trout with 1080 residues.
The Department of Conservation's Felicity Lawrence responded by narrowly focusing on the dangers of 1080 to human health. But hold on! DOC's statutory obligations under the governing act are to aquatic and terrestrial life, i.e. the natural ecosystem. Felicity never mentioned that.
She failed to acknowledge 1080's wide killing power.
That study that showed eels to have eleven times permissible levels of 1080. Koura are almost certainly similarly affected. Eels are classified endangered. Are males rendered infertile? Koura which take 1080 baits dumped in streams may be too. Who knows?
What's the effect on aquatic invertebrates, i.e. nymphs – vital food for trout, eels and native fish?
Certainly DOC don't seem to know or are they even concerned about it?
Nor apparently is there concern about trout's spawning ability being undermined by the endocrine disruptor factor and jack trout becoming infertile.
After all DOC should care about trout. It manages the Taupo trout fishery, doesn't it?
Equally DOC should be alarmed at the loss of native predatory and scavenging birds as well as those imbued with extraordinary curiosity, e.g. bush robins, kea, weka etc. And what of that endocrine disruption of the ability of birds to breed? And of 1080 – as an insecticide – killing the food supply of insectivorous birds?
In short 1080 is an ecosystem poison.
Fish and Game should be concerned too with a loss of spawning if male trout become infertile.
After all, Fish and Game have widely – unwisely in my opinion – virtually abandoned totally liberating trout. But the subject of 'to liberate or not to liberate' is another issue. But in the absence of liberations what if trout due to 1080 and the endocrine disruptor factor, have their spawning ability severely reduced?
The sad truth is no one knows.
Giant Irrigators
I paused in that MacKenzie Basin bush gully and looked down Lake Ohau, towards the hazy blue of the horizon.
Between that shimmering azure was a swathe of green, in contrast to the brown of the tussock slopes. The difference was explained by the giant irrigators that could be seen either side of the state highway between Twizel and Omararama.
One was set parallel to the state highway so I set the odometer at zero as we motored along. One point two kilometres long – 1.2 kms. There were at least four on that farm. That would be 4.8 kms.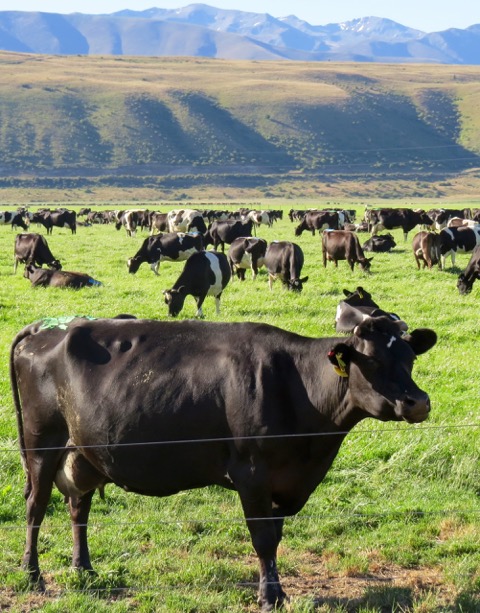 "Dairy cows were packed into paddocks" – Mackenzie Basin
Dairy cows were packed into a paddock
while the irrigators sprayed water to stimulate grass growth once the cows had grazed the pasture to its utmost. The annual rainfall for Twizel is less than 700 mm – in imperial terms that's 28 inches.
It's not naturally suited to dairying yet there are dairy cows, their nutrition only made possible by water. Water from where? The aquifer of course. But that aquifer is really part of the MacKenzie's watershed system. The rivers are the visible, above-ground part. The aquifer is the unseen, below-ground part, in essence an underground river. Deplete the aquifer and it impacts on the rivers.
And then there's the question of nitrates from fertiliser and cows.
I pondered on governments' appetite for growth and more growth – one it seems that will never be satisfied. It's like the dog chasing its tail.
I thought about the myopic vision for monoculture given the volatile nature of the commodity marketplace. And of the recent government's firm intention to tinker with the Resource Management Act to make development – development like corporate mega-sized dairy farms – much easier. Fast track they term it. Environmentally 'dirt track' might be a better description.
Sadly no one except a few voluntary organisations – like the Council of Outdoor
Recreation
Associations
of NZ and the NZ Federation of Freshwater Anglers – is challenging the direction the country is taking.
Where will it end?