Opinion by Tony Orman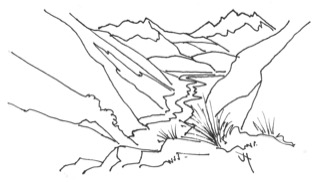 If ever it falls your lot to travel up the Wairau Valley along Marlborough's state highway to the West Coast, the road is flat and invariably straight, although it does imperceptibly climb. The monotony is suddenly interrupted by crossing Saltwater Creek and then wending up and over a low hill before then descending to the Branch River bridge. That hill marks the morainic debris of a glacier that existed some 8,000 -10,000 years ago.
When the Wairau glacier advanced to just downstream of the Branch River bridge, the climate must have cooled. When it retreated, the climate must have warmed. Today no glacier exists in the Wairau valley.
The cooling and warming was just part of the normal dynamic cyclic nature of the earth's climate.
Sub-Tropical Central Otago
Shift south to Central Otago and in particular the St Bathans area. Reading scientist George Gibbs' comprehensive and fascinating book "Ghosts of Gondwana" (published 2016) the reader is confronted with the astonishing tale that about 15 to 20 million years ago, there was a large freshwater lake ecosystem that by evidence of fossils, had crocodiles, turtles, eucalyptus trees and other warm species. "Their presence is indicative of a sub-tropical dry climate," wrote George Gibbs.
The climate must have warmed to allow sub-tropical species to not only exist but thrive. Then it cooled to its present day climate of cold winters and hot summers – again proof of the dynamics of climate change.
There has always been periods of global warming – off and on.
In the North Island there is the case of the Ruahine Range which runs north from the Manawatu Gorge to end in name at the Napier to Taihape road. In 1845 there were no roads crossing to the Taihape area. In 1845, a missionary explorer 34 year old William Colenso wished to visit Maori pas near Taihape to teach the Christian religion. To do so from his base in Napier he had to cross the Ruahine Ranges.
The Remarkable Colenso
In February 1845, William Colenso became the first European to enter the Ruahine Ranges. His diary records significant observations on the mountains and the natural forces at work. He found creek beds "so narrow and steep and partly choked with dead trees and shrubs and masses of stone." Resorting to spurs and ridges, Colenso and his party struggled through "old fallen trees" and at times "passing along the very edges of extensive land slips down which it was fearful to look."
In the 1980s a hydrologist/botanist Dr Patrick Grant chanced upon William Colenso's observations. Dr Grant was intrigued. Catchment boards and extreme green groups like Forest and Bird had long blamed the "extensive land slips" and "creek beds choked with dead trees and masses of stone" on wild deer.
But Colenso's diaries clearly showed the land slips and choked stream beds had been there decades before the first deer were liberated. So Dr Grant set about researching the causes. The clue was in climate. By 1985 he had defined at least seven periods of accelerated erosion since the great Taupo eruption,1800 years ago. These naturally destructive periods "may strike at any time but always greatly intensified during periods of warmer, windier climate."
"The erosion and forest damage that Colenso saw in 1845 and 1847 was no doubt the effects of gales and heavy rainfall," said Dr Grant.
Tropical Cyclones
The warm periods are often accompanied by severe storms such as Cyclone Alison (1975) and Cyclone Bola (1988). In the Pohangina saddle in the Ruahine Ranges, during Cyclone Allison, a rainfall gauge recorded a 24 hour rainfall of 400mm (16 inches).
William Colenso's diaries testify tropical cyclones and extreme weather events are by no means a recent phenomenon.
Natural climate cycles with warming and cooling and extreme weather events have always been.
However the problem I have with the current alarm calls being sounded about climate change is the lack of distinguishing between natural climate change and human induced climate change.
Therein lies the big flaw in the raging extreme advocacy of today's climate change debate, fanned by the current government and its attendant Green Party.
To revert to basic mathematics, the equation is represented by "Natural Climate Change" plus or minus "Human Induced Climate Change" equals the "Actual Climate Change".
Missing in Action
In the frantic debate that rages the factor of "natural climate change" is mostly missing. Even scientists disagree on the human factor. For politicians it's a populous bandwagon to hitch a ride on to popularity and power. And the compliant media with monetary inducement, follow the dictates of government.
But dare to challenge it and the accusations of "climate denier" hurtle through the air. By the way is the name calling, "hate speech"?
I'm not a denier. Because of the ignoring of natural climate change, I don't know what the true situation is.
I do believe there are worrying environmental effects being exerted by Man's over-exploitation of resources fuelled by greed, paranoia about wild natural relationships between predator and prey within food chains (e.g.Predator Free 2050) and an ignorance and disrespect for ecosystems and their functioning.
That understanding is often absent in debates over global warming – or is it climate change?
Footnote: Tony Orman, is an angler and deerstalker and a conservationist who "cut his teeth" in the Save Manapouri debate in the 1970s.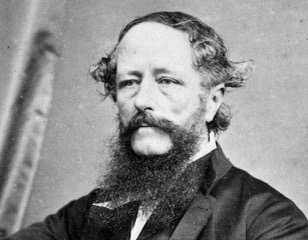 William Colenso – his diaries record the devastation of natural climate change cycles.