Book Review; He Puapua by John Robinson, published by Tross Publishing, Wellington. Available at good bookshops or ordered directly from Tross Publishing – https://trosspublishing.co.nz/ for $35. Reviewed by Tony Orman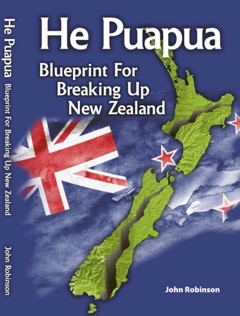 John Robinson is one of the country's top historians a
former university lecturer, and research scientist and prolific author of books about the historical development of New Zealand.
His conclusions on New Zealand''s history are frequently controversial because he does not back off from challenging "politically correct" dogma. His past several books have reflected his concern about such dogmas as mindless economic growth, degradation of the environment and over-population. The author has challenged the Kapiti Council's use of 1080 poison and thereby incurred the wrath of the Forest and Bird Society.
John Robinson now expresses concern in his latest book "He Puapua", subtitled "Blue Print for Breaking Up New Zealand." He Pupua originated from United Nations and
government agencies, the latter not infrequently infiltrated by self interest groups. The recent He Puapua report is aimed at changing New Zealand from an egalitarian society into one divided between an ambitious tribal elite and a subservient, often apathetic majority.
Manipulative
The author pulls no punches in expressing his concern about t
he "Te Puapua" strategy which is based on carrying out the recommendations of the 2007
United Nations Declaration on the Rights of Indigenous People
(UNDRIP)
.
When the declaration came out, Prime Minister Helen Clark refused to sign UNDRIP because many of its Articles were in conflict with New Zealand laws and system of government. However, the manipulative John Key, in order to hold on political power and being dependent on the Maori Party to hold that power, instructed Maori Affairs Minister Pita Sharples to quietly and secretly go to New York to sign UNDRIP. Public consultation was nil.
"Divide and Conquer"
Author John Robinson analyses the Declaration which in essence directs states to enable indigenous people to virtually run their countries.
It is "divide and conquer", i.e. a divided nation.
There is growing separatism between " Maori" – about 13% of the population – and the rest of the New Zealand people, which is undermining democracy. John Robinson piercingly and perceptively looks at various issues such as the weak case Maori have for being regarded as indigenous, considerable evidence of pre-Polynesian settlement of New Zealand and the reality that New Zealand is now
becoming
a racist country with a small minority increasingly becoming more powerful and more dominant.
Outdoors Kiwis
Outdoor recreation lovers will be concerned with the effect on public lands, conservation and water resources.
"He Puapua: Blueprint for Breaking up New Zealand" is a very timely book that all New Zealanders should read. John Key got a deserved brickbat and current PM Jacinda Ardern gets the same for "doing the nation a massive disservice as the democratic rights and liberties of non-Maori continue to be undermined by the implementation of "He Puapua
"
.
A book for all caring Kiwis.
© Historian and author John Robinson