by Tony Orman
Government use of 1080 poison in New Zealand is controversial and of all poisons it commands the headlines.
But there is a much worse poison – it is called brodifacoum. Somehow it's slipped under the radar as the saying goes.
Brodifacoum is widely used by regional councils and government agencies such as the Department of Conservation. Typical of its unknown but fairly widespread use is Ulva Island near Stewart Island where the Department of Conservation is currently undertaking rodent eradication. Incorporated is a further step of "the removal (eradication) of deer from Ulva."
Ulva Island is small, just 267 hectares and with a coastline of about 11 kilometres.
DoC's justification for removal of the whitetail deer is "an important step to ensure that deer don't remove bait during their operation therefore making it unavailable for rats."
That in itself typifies the illogical, impractical approach by the department.
A longtime conservationist, in an e mail to me, described DoC's "removal of deer" policy, mentioned in their brochure, as "laughable".
"Firstly – they've aerially poisoned with brodifacoum at least twice before – therefore there are virtually no deer left on the island, or a couple at best," he said.
"Secondly – they aerially spread around 30kg of bait per hectare when eradicating, via two or three successive aerial operations, a week or two apart. The baits are usually 6 grams in weight, each. That's 5000 baits per hectare … and the fools are saying that three deer (if there's any at all – it's a small island) need to be removed because they'll eat a couple of baits that are needed to kill a couple of rats!!!"
"Really, are these people aware of what they're actually saying, and how stupid they are?"
I have come across brodifacoum poisoning notices in the central North Island when trout fishing, accompanied by my Labrador dog. In one case I asked a farmer why the regional council was using brodifacoum. for possums. He didn't know and added that possum numbers were very light anyhow.
Because of the extreme danger to my dog, I didn't go fishing. Besides, trout fishing a river into which poisonous baits may have fallen, leaves a toxic feeling, spoiling what could have been an enjoyable day's fishing!
Such cavalier attitude of regional councils – and the Department of Conservation – belies the lethal nature of brodifacoum.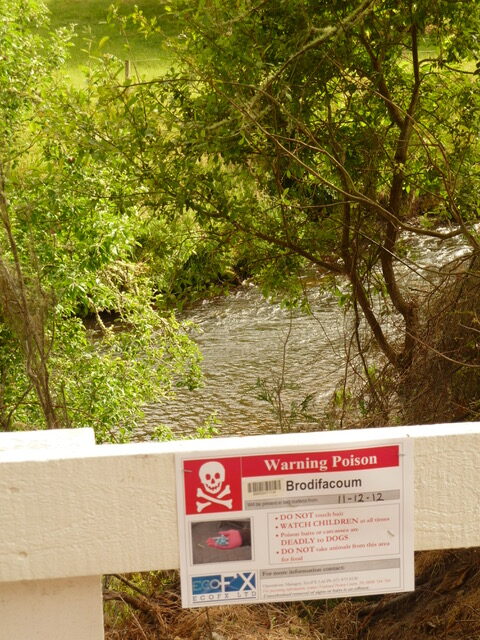 Trout Stream in King Country with brodifacoum warnings
Comparison
How does it compare to 1080?
Both poisons have a "withholding period" which means a time must elapse after the toxin's use before stock can be safely grazed or game animals such as deer, taken for home consumption.
The Ministry of Primary Industries stipulates 4 months for 1080 poison.
For brodifacoum it says "cannot supply carcasses taken from a brodifacoum operational area (including the buffer zone) within 3 years (36 months) of the poisoning terminating."
Buffer zones represent the area of land between the land subject to a poisoning operation and that free of poison. The buffer zone provides a margin of safety between the poisoned-free area and the possibly poisoned adjoining land. The size of the buffer zone is determined by what is known about normal wild animal migration and movements between areas.
The extensive withholding time for brodifacoum is due to its known long-term persistence in the environment and animal bodies.
What is brodifacoum?
"Brodifacoum is an anticoagulant poison, which is dyed blue in colour, and reduces the clotting power of blood. It can also be used by landowners to undertake possum and rat control on their own land because a user licence is not required," says MPI.
Slow, Cruel Death
Brodifacoum is an anticoagulant, which causes the animal to die slowly and painfully from internal bleeding. As cruel as death is by 1080, (which blocks the chemical process of respiration), by brodifacoum it is far more prolonged.
RSPCA Australia says "these poisons are not considered to be humane due to their toxic effects including difficulty breathing, weakness, vomiting, bleeding gums, seizures, abdominal swelling and pain. In addition, the body of the poisoned rodent presents a significant risk if it is eaten by other animals, including native wildlife."
The "time to kill" factor is relevant.
1080 is a slow acting poison taking hours or days to kill a bird or mammal.
But brodifacoum is even slower to kill.
Rodents will usually die from ingesting brodifacoum within 4 to 8 days of their first feed of bait, whereas possums can take weeks to die according to the National Pest Control Agencies.
1080 requires a user to have a licence to use the toxin.
No licence is needed for brodifacoum, for example shop sold rat poison.
Brodifacoum is the basic ingredient in rat poisons sold over shop counters, to anyone, young or adult with no controls whatsoever.
Predator Free NZ says brodifacoum can be bought "online and can be bought at your local hardware shop; may be provided by councils, landcare groups."
However both 1080 and brodifacoum have similar properties in that they can poison and kill any other creature that ingests the poison. In other words it just doesn't kill the target species such as rats or possums, but will kill non-target species such as birds and animals like deer. that may ingest the toxic bait.
Secondary Poisoning
Brodifacoum and 1080 have another similarity, called "secondary poisoning". In other words a dead poisoned animal remains toxic and any bird or other creature scavenging the dead body, takes in poison.
"Non-target organisms are potentially at risk in two ways: from direct consumption of baits (primary hazard) and through eating poisoned rodents (secondary hazard)" explains the International Programme on Chemical Safety.
Scientists C.T. Eason and E.B. Spurr in 1995 in a study "The Toxicity and Sub-lethal Effects of Brodifacoum" said insectivorous birds (e.g. bush robins, fantails) are likely to be exposed to brodifacoum by eating invertebrates that have fed on toxic baits; i.e., they are likely to be at risk from secondary poisoning. Predatory birds (especially the Australasian harrier, New Zealand falcon, and morepork) might also be at risk from secondary poisoning by eating birds, small mammals, or invertebrates that have fed on toxic baits.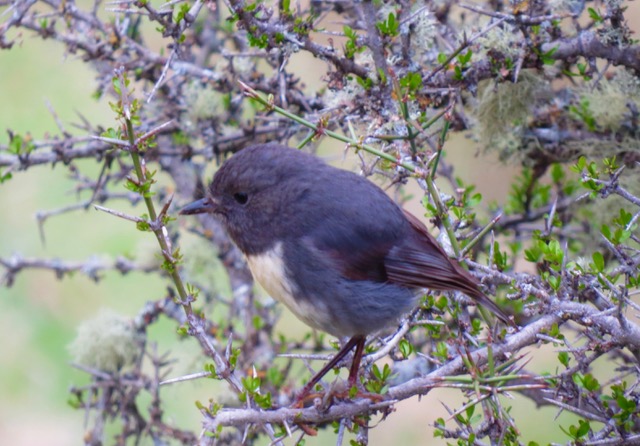 Scientists in a study "The Toxicity and Sub-lethal Effects of Brodifacoum" said insectivorous birds (e.g. bush robins, fantails)
— are likely to be at risk from secondary poisoning.
Predators are greatly at risk. Both poisons are very slow to kill, and especially so with brodifacoum. An animal be mouse, bird or insect, on taking the poison, slowly dies and in its distressed, weakening state, quickly attracts the attention of predators among them native birds such as bush falcons, hawks, moreporks, pukekos and wekas.
Ecological history is littered with instances following poisoning. For example Eason and Spurr said the "entire weka population on Tawhitinui Island, Pelorus Sound, Marlborough Sounds was exterminated mainly by direct consumption of rat bait (Talon) intended for ship rat control."
The scientists cited instances of harrier hawks, found dead after eating rabbits poisoned with brodifacoum, moreporks found dead from secondary poisoning after eating rodents poisoned with Talon rat bait and southern black-backed gull —- at risk from secondary poisoning by scavenging on poisoned carcasses.
A dose of poison below fatal amounts is described as sub-lethal. Scientists Eason and Spurr referred to "sub-lethal doses of brodifacoum which caused abortions and reduced lambing rates in sheep."
Endocrine Disruptor?
Have 1080 and brodifacoum that "endocrine disruptor" which basically is the undermining of fertility and conception rates in a species? Is breeding and reproduction inhibited resulting in longer term population decline?
It is questionable because there appears lack of research and little if any information, into whether both poisons have the "endocrine disruptor" characteristic.
Nevertheless Eason and Spurr refer to sub-lethal doses and reduced reproductivity in sheep.
The two scientists said "indigenous New Zealand vertebrates most at risk from feeding directly on cereal-based baits containing brodifacoum are those species that are naturally inquisitive and have an omnivorous diet (birds such as weka, kaka, kea, and robins). The greatest risk of secondary poisoning is to predatory and scavenging birds (especially the Australasian harrier, New Zealand falcon, southern black-backed gull, morepork, and weka)"
The duo added "the risk from brodifacoum will be at its greatest when saturation baiting techniques, such as aerial sowing, are used in eradication programmes."
DoC is "aerially sowing" Ulva Island with brodifacoum.
Seven years later in 2002, Spurr and Eason along with two other scientists produced a study "Assessment of risks of brodifacoum to non-target birds and mammals in New Zealand".
The quartet of scientists described brodifacoum as "highly toxic to birds and mammals".
"Vertebrate pest control programmes in New Zealand using bait containing brodifacoum have resulted in the primary and secondary poisoning and sub-lethal contamination of non-target species. These include native raptors, such as the Australasian harrier (Circus approximans) and morepork (Ninox novaeseelandiae), other native birds such as the pukeko (Porphyrio melanomas), weka (Gallirallus australis), southern black-backed gull (Larus dominicanus), and kiwi (Apteryx spp.), and introduced mammals, including game animals."
Dead Dotterels
Other studies have identified the lethal nature of brodifacoum.
Landcare Research scientist Penny Fisher said "because brodifacoum persists in the environment, other birds may suffer secondary poisoning from eating animals that have ingested poison" and cited "a high mortality of New Zealand dotterels following an aerial brodifacoum operation at Tawharanui Regional Park North Auckland, in 2004. At least 50% of the dotterels in the area at time of operation disappeared or were found dead. Sand-hoppers-common food item of NZ dotterels —ate baits and accumulated brodifacoum and provided a potential route for transmission of the toxin to dotterels."
In 2004, MPI noted detection of brodifacoum residues in liver samples of wild pigs particularly in areas such as the Marlborough Sounds where absent bach owners had scattered brodifacoum rat poison around their properties. Wild pigs either ate baits directly or ate toxic rat carcasses.
Residues were still detected in some wildlife at least 24 months after brodifacoum use ceased.
Two dead eels found in a Southland waterway had brodifacoum in the gut contents of one and that "suggests the eel had recently ingested food containing brodifacoum, probably through scavenging the carcass of a poisoned possum."
High Residues
Brodifacoum similar to 1080, leaves residues.
In 2005 a paper in the New Zealand Journal of Marine and Freshwater Research, Volume 39, told of freshwater crayfish (koura) with significant 1080 concentrations and 1080 residues in eel tissue that were on average 12 times higher than the PMAV (provisional maximum acceptable level).
The INTERNATIONAL PROGRAMME ON CHEMICAL SAFETY Health and Safety Guide No. 93 said of brodifacoum "as a technical material — is highly toxic for fish".
Processing poisons for wild animal control/eradication is Orillion a State Owned Enterprise governed through a Board of Directors appointed by the New Zealand Government. Orillion's safety data sheet for brodifacoum says "may cause long lasting harmful effects to aquatic life."
Therein lies a threat to not only valued sports fishes such as trout and juvenile salmon migrating downstream to sea, but also native fish such as eels and galaxids.
Sodium fluoroacetate, also known as compound 1080, is the poison around which controversy swirls. Brodifacoum is little known but is surreptitiously used by the Department of Conservation and councils.
1080 is ecologically destructive and damaging to the ecosystem – but brodifacoum is far worse.