by Tony Orman
The author of a new hunting book "Straight Arrows and Fast Bullets" says 1080 poison, used to kill rats and possums, should be banned. Author Peter Hill says in his many years experience of the North Island backcountry, he is convinced the poison does more harm than good.
"The scientific evidence is there in black and white. It should have been banned may years ago, as the United States and other countries have done."
Hinting there is often no rhyme nor reason to where the poison is dropped by the Department of Conservation, the former possum trapper says possum numbers are often low. He says in his many years of experience in the bush, possums have no impact on bird life while possum numbers in high altitude beech forest, have been and always will be, very low due to unpalatable food and the high ridges being too wet and exposed. In other words the natural carrying capacity of the habitat is low.
Peter Hill says in 1992 when he was a professional commercial possum trapper in the North Island's Whirinaki Forest Park, fur prices plummeted over a few years. Consequently the Okahu valley had not been trapped and possum numbers were relatively high. However the high tallies Peter obtained compensated for the low price per skin.
Prolific Birdlife
The high possum numbers were a trapper's dream. Significantly also was the bird life was prolific. As he worked, Peter disturbed insect and the many tomtits and other insectivorous birds followed him, feeding on the abundant insects. There were other birds such as kaka, tui and bellbird plus the vegetarian kereru (pigeon) whooshing through the treetops.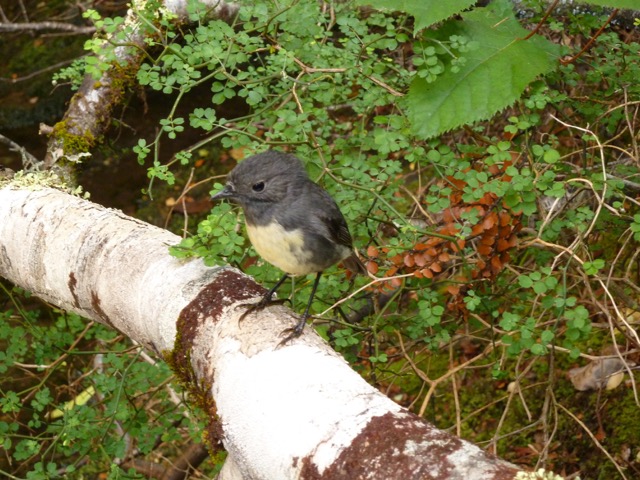 An insectivorous bird – bush robin
"The bush was also in good condition with plenty of regeneration" writes Peter Hill.
Every morning he would wake up to the dawn chorus. He never needed an alarm clock with the bellbirds and other bird calls ringing in the air. During the night he would hear moreporks and very frequently the high pitched whistle of the kiwi. Peter pursued possums, covering a huge amount of country and knocking the possum population right down.
"The fact is possums are easily controlled through ground hunting. Unlike rabbits, doe possums usually only have one young a year and the old possums die off – it's the circle of life."
A short time after Peter gave up possum trapping, the Department of Conservation carried out a huge 1080 drop over the valley and much of the Whirinaki Forest and in areas where possum trapping had been intense. Possum numbers were therefore very low.
"Who knows how much that 1080 drop cost and whether it was even necessary," says Peter Hill. "Government departments such as DOC, have not done the groundwork that serious possum trappers have done. And yet for some bizarre reason they are in charge of making decisions they obviously know little about."
DOC Misleading Public
Peter Hill says for years the Department of Conservation has been misleading the public, proclaiming that the plague of possums, deer and all "pest" animals are killing off our bush and wildlife.
"The general public with no backcountry knowledge simply trust DOC know what they are doing," he says. "In my opinion what DOC is advising is blatantly wrong information."
Peter Hill returned to the Whirinaki Forest Park.
"The birdlife is nothing like it once was and certainly there was very little sign of possum. The department does a major 1080 drop every three years in the Whirinaki Forest and poison drops have wiped out nearly all the bird life."
Nature balances things out to create a working ecosystem. Rats and stoats have been in New Zealand for many years. The decrease in bird numbers he contends, is due to the many continued 1080 drops. A poisoned bird or animal retains toxic potency to poison any scavenger be it bird or animal. Any animal dying of 1080 poisoning does so painfully and slowly.
Peter Hill writes that in areas where there has been no 1080 drops, the birdlife is amazing and possums, stoats, deer, rats and native animals all live as one in natural balance.
Footnote: "Straight Arrows and Fast Bullets" is published by Bateman Books Price $39.99 and will be released in August 2022. Well written, most of the book features absorbing tales from the author's hunting years. It's an engaging read.