New Zealanders value access to the great outdoors. And landholders, as stewards of the environment, have a tradition of granting access to those who ask.
To help make this process easier the Walking Access Commission work with Federated Farmers and Rural Women New Zealand to provide free signs for landholders to use. These signs mark access routes for people to use when crossing landholders' properties.
Landholders can use the signs to show approved routes across private land. They are not to be used to identify public land, such as unformed legal road or marginal strips.
Federated Farmers New Zealand first proposed this project in 2010.
The Commission sponsors these projects to increase access to the outdoors. The Commission want people to respect property rights to both private land and public land. One way to do that is by marking out where public access is and what the conditions of access are. Federated Farmers New Zealand and Rural Women New Zealand support this approach.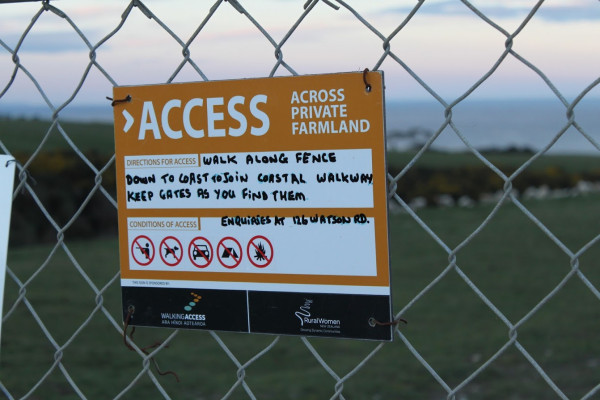 Benefits
The signs offer advantages for landholders.
By showing an approved route across a property, the signs can help reduce possible conflict over public access to private land. The signs also make it easy for landholders to provide contact details for walkers, hunters, fishers and other recreational users. This lets them ask landholders for access when permission more easily.
Access to privately-owned land is a privilege, not a right. Landholders can exclude anyone from their land for whatever reason at any time. The sign shows the willingness of landholders to make their land available to the public.
The signs
The signs are small and designed to hang upon a fence or similar structure. They show an access entry point and/or route. They allow the landholder to include their contact details.
The carry the Commission logo and the logos of other sponsor organisations. The signs use colourfast inks on aluminium composite material. They are durable in outdoor conditions.
The signs come with pre-drilled holes in them. They can screw to a wall or gate or hang on a fence with electrical cable ties or stainless steel/ aluminium wire.
Accompanying the sign is a set of symbol stickers that landholders can use to state any conditions on the access to their land. For instance, this could include no fires, no dogs or no guns. Please contact the Commission for extra sets of symbols if you run out.
There are two options for landholders:
To mark routes where they are happy for the public to access their land without having to ask for permission. Landholders can still list contact details so that people can ask for permission, for example, to take dogs on the route or guns or to hunt.

To mark a route where a landholder is happy for people to access after they ask for and receive permission. Contact details must be on this sign.
If there are any unusual hazards on the farm the landholder should note these on the access sign. This might include hazards like logging of trees or the use of explosives.
Signs need to be legible. If they are weathered or vandalised the landholder will need to replace the signs with new ones. These are available from the Commission.
Interested landholders can get a sign at no cost by contacting one of our Regional Field Advisors or by contacting our national office.
Contact us for a free sign, or with any questions
Guidelines for use:
Download: Guidelines – Federated Farmers/Walking Access Commission sign project
Download: Guidelines – Rural Women New Zealand/Walking Access Commission sign project