by Ben Hope
Former Environment Minister and National MP Nick Smith has been caned for hypocrisy after he wrote a newspaper column bemoaning the erosion of democracy.
In the column he said that the "
values of democracy and freedom are globally being eroded and tested after decades of improvement. New Zealand's rating has dropped for the first time in 15 years. We have the opportunity to buck the trend this month and restore New Zealand's reputation as one of the best democracies in the world."
But two environmental organisations took him to task.
Council of Outdoor Recreation Associations of NZ chairman Andi Cockroft said it was a hypocritical cry from the former environment minister.
"It's a bit rich when he was in government and sacked a democratically elected ECan council and took the 1080 public submission process away from local government so as minister he had sole say and the public had none," said Andi Cockroft.
Dr Peter Trolove, president of the NZ Federation of Freshwater Anglers spoke a similar sentiment about the evident hypocrisy.
"Nick Smith is hardly a shining example of democracy. He was one of the National Party cabinet ministers that passed the Ecan Act 2010 under urgency. One of the most constitutionally repugnant and undemocratic pieces of legislation in recent history.," he said.
Bloodless Coup
Back in 2010 t
he National government Government replaced the democratically elected Environment Canterbury (ECan) council with commissioners in an attempt to sort out water management in the region. Public comments at the time described the move as "an outrage to democracy" and "the equivalent of a bloodless coup".
At the time, Environment Minister Nick Smith and Local Government Minister Rodney Hide announced that Dame Margaret Bazley would head a team of commissioners assigned with the task of sorting out widespread water management problems before local elections in late 2013. The National Government rushed legislation through which included suspending elections for ECan and giving the commissioners wide-reaching powers to achieve their purpose.
The takeover by the National government went further and included removing the Environment Court as an appeal option for people opposing consent decisions and restricting general legal avenues. Power to make final decisions on water issues was given to the then environment minister Nick Smith.
Nick Smith promised to restore democratic elections in 2013 but his governmernt failed to honour the assurance and
it was not until October, 2019 that Cantabrians were able to vote in the first fully democratic regional council election since 2007.
Nick Smith has had a chequered career that involved other incidents such in 2014 when it was alleged
he bullied Fish and Game into ending its campaign for clean rivers and lakes after he as
minister, met with the Fish and Game Council in Wellington.
It was alleged Nick Smith was "clearly displeased" about Fish and Game's current anti-irrigation billboard campaign calling for better water quality in the country's lakes and rivers.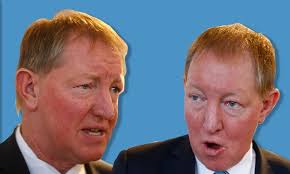 Nick Smith – accused of hypocrisy