Subtitle
:-Influencing Policy/Proposals at Conception by Infiltration
An opinion by Tony Orman – intended to promote discussion and political action
April, 2022
Most advocacies and lobby groups seem to ignore getting involved around the table where policies are formulated.
Policies are arrived at – in theory at least – by elected bodies be it political parties, governments, local government councils and democratic boards such as regional conservation boards.
But in almost every case a proposal is formed and then presented to the members or public for discussion and submissions. However in recent years, the submission process has become only a token nod to consultation. The course is set and unless opposition mushrooms, the proposal will almost certainly be adopted.
The "token nod to consultation" has become most marked over recent decades. This is reflected in the parliamentary select committee process where once a submitter was given almost unlimited time. In the 1970s and 1980s I made several submissions to parliament's select committees. The submissions and question time varied in length from 90 minutes to 60 and 45 minutes.
In the last 20 years years or so, submitters to a select committee have been limited often to just five minutes.
In one case (covid traffic lights) this year, government by-passed the select committee process. There was
no
public consultation.
Submissions may be made in some cases, against a policy or proposal. But a cynical observation, but not without strong suspicion, is that submissions are treated by politicians, bureaucrats and other decision makers as a nuisance and unlikely to overturn the original intention – unless the opposition grows and represents a significant and politically effective number of votes – a significant factor to politicians.
Apathy
The other factor is public apathy born of indifference or disillusionment with the erosion of the democratic process. Too many cannot be bothered making a submission or joining the voice of opposition. So as earlier outlined, the course is set and because opposition does not mushroom, the proposal whether good or bad, will almost certainly be adopted.
Those participating in the token consultation, are on the back foot trying to overturn a policy or proposal.
How much better to have been at the conception stage when a policy or proposal was initially mooted and to have input at that early stage.
But as a result, of inaction born perhaps of naivety, lethargy, and/or inertia, there is a general unwillingness to get involved politically.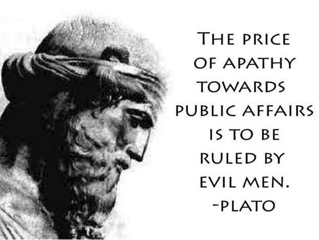 To reiterate, isn't it far, far more preferable to get involved before policy or proposal is formulated, so that early influence may result in better decisions?
In the case of local government (i.e. regional, district or city council) this can be achieved by an advocacy nominating individuals at election time for election to council. Those individuals may be members of the advocacy – or individuals outside, deemed to be good candidates.
Then if elected, those individuals have their "feet under the table" and are able to put forward viewpoints at the embryo stage as a potential policy/proposal is discussed. The result of being there
at the start,
should logically result in much more enlightened policy?
In the case of a political party, policy is often formulated by an annual conference considering remits from branches. A party member can put forward a remit idea at branch level and if adopted, it then goes to the party's annual conference, debated and voted on.
Only those who belong to a political party have this privilege.
Oligarchy is dictionary-described as "government in which a small group of people has the power."
I was intrigued when a friend described to me the current system as "an oligarchy in which an elite minority of people have control of who is in government. The members of this elite minority (party members) are obviously getting what they want at the expense of the majority i.e. rest of the people." The rest of the people decline to participate.
Isn't the loss of democracy the people's own fault for failing to be involved in politics? There is a conscious fear by many – too many – of getting involved in politics. It is naivety in the extreme.To those unrealistic people who continue to bleat that conservation, fishing, shooting and hunting and politics don't mix I say that is precisely what governments, bureaucrats, corporates and others who pull the big strings, want you to believe.
Continue that negative attitude and the outdoor sports public does so at its peril.
In a sentence,
politics and environment are nothing more and nothing less than cause and effect.
As was put to me, "The people (political party members) with the most influence in National and Labour decide policies or proposals for the rest of the populace. It would be so easy to change things if people just had the courage and will to become more involved in and aware of how the current system operates."
The Labour Party, currently government, and virtually in a "First Past the Post" position, (yet ironically it is a MMP system), probably has only 12,000 members and perhaps less than 2,000 are actively involved.
I
t becomes an elite minority because of default by the majority.
That elite minority of influential party members and funders (donors that are listed but invariably are never made public) are getting their ideas developed into policy but the rest (the much, much greater majority who choose not to be involved) get very little in return for all the money they are forced to pay (i.e. taxes and/or rates).
Political Donations
Referring to political party donations, in 2020 Radio NZ disclosed "one of the country's biggest fishing companies, Talley's, and its managing director donated nearly $27,000 to the New Zealand First Foundation, which has been bankrolling the New Zealand First Party. The foundation received $26,950 from seafood giant Talley's and from managing director Sir Peter Talley between 2017 and 2019, according to records viewed by RNZ."
Stuff ran an article in August 2017 on political party donations.
The first two paragraphs are worth noting:- "Ask Sir Peter Talley if his fishing company is donating to New Zealand First's political campaign and he will say 'no comment.'
"Try again and he'll say, 'Can't you f…ing understand English?' and hang up the phone."
The same Stuff article reported
during the 2014 election that candidate donations showed Talley's contributed $42,500 to the campaigns of nine candidates (mostly National) standing for regional seats. Three of these – Chester Borrows, Stuart Smith and Damien O'Connor (the only Labour recipient) – were members of Parliament's Primary Industries Select Committee. Each received $5000.
The article said NZ First's Shane Jones received donations but would not confirm who his donors were.
"Historically I have been supported by the fishing industry including Sealord and Talley's. In my experience, I know of no instance where a political donor has been given a favour by an individual in parliament," Shane Jones was reported as saying.
Did Shane Jones think the journalist and the public were naive?
Join and Participate
The obvious way to get sensible policies is for more and more ordinary working or retired, people to join and participate in one or other of the main political parties. Or in the case of local councils, be nominated at election time.
In the case of political parties, "join up, front up and infiltrate." Attend the local monthly meetings. Often there are less than 20 people there. As pointed out to me, "disrupt the PC/woke culture of these little groups, reform the political parties, select and support candidates that can be trusted to work for the common public good."
The blame for bad policies sheets back to the big majority of people for their
apathy
to getting involved politically. The apathy results directly in hiring and employing the wrong people to serve us in government, be it Parliament or the local council.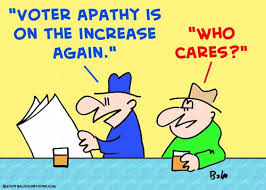 Apathy is almost a guarantee to poor government at whatever level. Apathy is commonplace. It's plain to see.
General elections see about a million New Zealanders who do not vote or were even too disinterested to register as voters. They seem not to think or care about tomorrow and the legacy they leave to their children and grandchildren. They are short-sighted because they only live for today and don't consider tomorrow and their children and grand-children's future.
Take a look at Fish and Game elections where in a number regions, not enough nominations are received to fill the council seats. Voting turnout by shooters and anglers is invariably woefully low.
Promoting Ideology
There is an exception to the apathy by people and advocacy groups. It is the Forest and Bird society, an advocacy of well intent but often "wacky" ideas.
It's national manager the late Kevin Smith, became senior advisor in Parliament to Ministers of Conservation. At the time of his death in August 2005, Minister of Conservation Chris Carter said "For the past six years, Kevin served as a advisor to me, and the previous Minister of Conservation Sandra Lee. He was outstanding in this role, and much of the progress that has been made in conservation in recent years is due in no small part to his efforts."
With all due respect, Kevin Smith for almost a decade was promoting Forest and Bird ideals and ideology to Ministers of Conservation. Kevin Smith – and Forest and Bird – could not be accused of apathy!
Forest and Bird have excelled in this infiltration. They are a major influence on the Department of Conservation, Conservation Boards and in political parties, particularly the Green Party and where ever they see opportunity to influence.
Organisations such as Fish and Game, national saltwater fishing, trout fishing and deer stalking organisations should follow the example of Forest and Bird and actively promote to regions/branches the idea of getting involved politically by making nominations to councils.
Local body elections are later this year.
Next year is the three yearly general election year. Policies are likely to be formed at the 2022 and 2023 conferences of parties. Groups should be encouraging key individuals to get involved in political parties.
One has to admire Forest and Bird's zeal and activism.
In contrast the rifle, rod and gun organisations, are lethargic, mostly conspicuous by their absence.
Perhaps there are one or two exceptions? For example, have Fish and Game regions promoted the idea to licence holders or sought to put up candidates for the coming local body elections on a nation-wide scale?
Have deerstalking, trout fishing and recreational saltwater fishing organisations promoted the idea of "influence by infiltration" onto conservation boards, into political parties and any other areas of policy making, to member branches or clubs?
Some 25 years ago, Forest and Bird's Kevin Smith realised the value of attaining major influence by way of infiltration,
The public outdoor sports sector have much leeway to make up.
But "better late than never."
To delay meaningful involvement is not an option.
The crisis with the environment and with both water and rivers, freshwater and saltwater fish and game resources, is urgent.
Footnote: Tony Orman has been involved in several conservation battles and also general fish and game advocacy since the "Save Manapouri" battle in the 1970s. He is a semi-retired farming journalist and author of 24 books mostly on outdoor subjects.