Subtitle – Government agencies target archery programs, lead ammo and more to end hunting, fishing
Based on an article by Luke Hilgemann Fox News, published September 22, 2023
In just three years under President Joe Biden, America's hunting-and-fishing heritage is under attack in ways never imagined writes Luke Hildermann of Fox News.
"Through the weaponisation of federal agencies like the Bureau of Land Management (BLM), the U.S. Fish and Wildlife Service (USFWS), and even the Department of Education, the Biden administration is pandering to the anti-hunting, anti-fishing extreme flank of supporters and launching an all-out assault on our outdoors way of life"
Maintaining their promises and commitments to extreme anti-hunting, anti-gun radicals, the Biden administration last year started a process to ban lead ammunition on federal public land. Through the U.S. Fish and Wildlife Service, regulations were proposed that ban lead ammunition in national wildlife refuges across the country.
"By all accounts, the action by the USFWS is the first step toward complete prohibition of lead ammunition and tackle on any public lands where you would hunt and fish".
Funding Removed
Earlier this year, the Biden administration blocked key federal funding under the Elementary and Secondary Education Act (ESEA) for schools with hunting and archery programmes, negatively impacting millions of American students participating in those hunting and archery programmes.
"While some try to downplay the federal government's anti-outdoors agenda, the threat to the hunting and fishing way of life is very real. It is abundantly clear that the activists who want to put an end to our outdoor heritage are determined, but they should be warned: so are we," wrote Luke Hilgermann.
The International Order of T. Roosevelt is a proactive hunting-and-conservation foundation focused on protecting the rights of hunters and sustaining the North American model of wildlife conservation.
"Through its advocacy arm, T. Roosevelt Action, the right to hunt is being promoted. States are being encouraged to push back against this anti-hunting, anti-fishing radicalism by securing a constitutional amendment enshrining their sacred right to hunt and fish."
Constitutional Right
"Half of the states in the U.S. have an explicit state constitutional right to hunt and fish. Twenty-three states enjoy constitutional clarity affirming the outdoor heritage and confirming the right to hunt and fish.
T. Roosevelt Action is determined to grow that number in the next couple of years."
It was President Theodore Roosevelt who pioneered the North American model of conservation – the idea that conservation efforts are crucial to the country's hunting way of life, and that hunters and anglers are crucial to successful conservation. The fight against these anti-hunting and anti-fishing threats is just getting started said Luke Hilgermann.
Footnote: Luke Hilgemann is the executive director of the International Order of T. Roosevelt and T. Roosevelt Action. "He is an advocate for protecting the US public's hunting heritage and at-risk wildlife habitats before they are gone."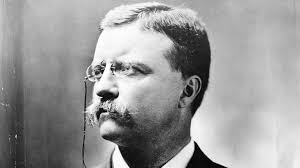 Theodore Roosevelt