All anglers who fish the Clinton and Worsley rivers must obtain a backcountry endorsement.
Only Adult Whole Season, Family, Loyal Senior, Non-resident Whole Season and Local Area licence holders are eligible for a Backcountry endorsement. The concept is t
o help manage angling pressure on the Clinton and Worsley rivers, with a fortnightly ballot operates throughout the sports fishing season (1 November-31 May).
Fishing pressure? People cause fishing pressure. The more
people, the greater the fishing pressure.
Many years go, it was exceptionally rare to meet another angler on wilderness streams and rivers.
It's a sign of the times or should I say of the number of people, i.e. 5 million in New Zealand.
"It's an ill-wind that blows nobody any good," is an old saying. It so often is true. The covid19 virus lockdown has been a great thing for growing problems like crowded trout rivers as in recent years the influx of international fly fishers from Australia, USA and other countries has become such a problem that local anglers in areas like Southland have protested strongly and loudly publicly. The border lockdown will this season prevent outsiders coming in.
Hunting has seen the same pressures. A number of my North Island hunter friends, of decades of experience, no longer will risk hunting in the autumn particularly so in the central North Island.
The source of the increased hunters is not hard to find with Auckland's conurbation bursting at the seams with ever increasing people growth. Hamilton and Tauranga sprawl outwards with more and more people.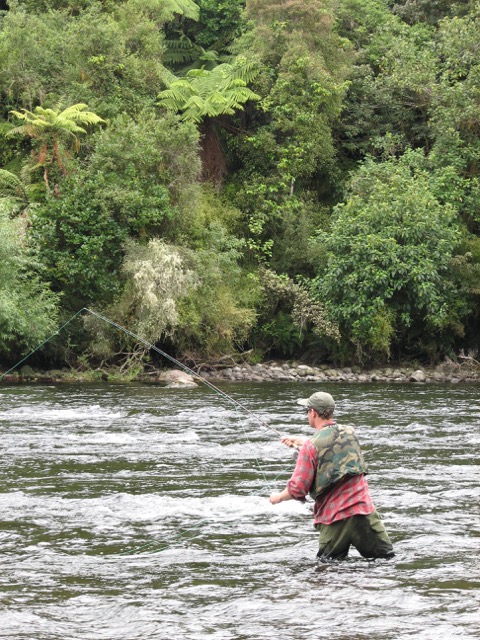 © Solitude on trout streams is getting harder to find with
increasing
numbers of people
Fifty years ago, stark warnings were delivered both internationally and in New Zealand.
Controversial author USA Paul Erlich warned about the people crisis in his book "The Population Bomb" published in 1968 – almost half a century ago. And in New Zealand about the same time, environmentalists such as "Save Manapouri" conservationist and New Zealand Deerstalkers Association president John B Henderson were warning "surely we cannot argue for there being any virtue in further proliferating the hordes of humanity?"
Five Million?
Five million is significant for John Henderson in 1970 said "it is high time New Zealanders set themselves an upper limit — I have no hesitation in tabling my own estimate – it is 5 million people." We've passed that mark.
Google NZ population clock – 5,094,488 people as at Tuesday, 03 Nov 2020. New Zealand's population is estimated to increase by one person every 17 minutes.
But New Zealand still has no population policy. Government pursues growth with a maniacal passion and no control. "Maximum growth – more people" is the mantra. Isn't it past time for a Ministry of Population and Planning?
I mentioned John B Henderson calling for a population limit of 5 million. By coincidence John was my mentor in deerstalking trips into the Tararuas when in the late 1950s I was an inexperienced greenhorn. He taught me dry fly fishing on the north Wairarapa brown trout rivers. We poked into areas of the Tararuas that probably hadn't been visited since the early pioneering surveyors such as Morgan Carkeek about 1900.
Nobody for Yonks
John recalled in an interview I printed in my book "The Sport In Fishing" (published 1979), " I remember —poking into some areas of the Tararuas that were just positions on the map. To meet wildlife in that setting – adult stags would be sniffing only a few metres away. You knew if you weren't the first man in those valleys, then nobody had been there for a long, long time."
I did one trip with him into one of those secluded valleys code-named "Hokey". The deer in creek beds just stood and gawked at us from a hundred metres away and only trotted off when we were just 25 metres away. We sat on the tops admiring 14 big red deer stags just 100 metres away, prior to the roar, basking in the warmth of the late afternoon sunshine.
Technology has ruined that too. There were no helicopters then, no air borne shooters indiscriminately shooting deer.
Those sorts of unique magical experiences have largely disappeared with more people. Those opportunities will be less and less unless—-.
If we have deer woods and trout streams crowded more and more by people with just 5 million people, what will it be like with 10 million living n New Zealand?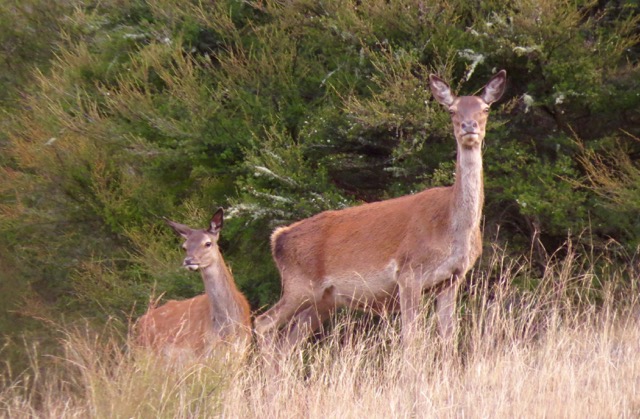 © "Deer just stood and gawked at us…"