by John McNab
ACT MP Nicole McKee in her maiden speech to Parliament
slammed the Government's gun control laws following the "Ides of March" mosque massacre last year.
In her speech, Nicole McKee thanked the firearms community, especially member groups of the Council of Licenced Firearms Owners and told them contrary to government's apparent view, the firearm winning public were inncent.
"You have persevered for a rational approach to firearms legislation … You have never been the problem, despite such accusations by the police, the Government, and the media."
She was critical of the easy way the Australian terrorist was given a firearm licence by police, despite glaring irregularities in his application.
The Government will look to create a new counter-terrorism agency and beef up hate-speech laws in response to the recommendations in the report.
Ides of March
"What happened in Christchurch on the Ides of March, 2019, has caused this country to mourn the loss of innocence, of lives and of peace as we know it.
The gun laws that were rushed through within days of the tragedy drove a wedge through society."
CORANZ understands the select committee claimed to have studied 13,000 submissions in three days.
"This confirmed the Government's attack was aimed at those who complied with the law."
Government Must Listen
She said the Government badly needed to listen to the public before making hasty decisions and not believe "the fairy tales".
Withy reference to PM Adern's covid rhetoric about a team of five million Nicole McKee said parliament should show respect to the full team of 5 million New Zealanders, and "stop hammering the minorities"
ACT was the only political party to vote against the gun reforms passed in the wake of the March 15 terror attack.
Nicole McKee has been a four-time New Zealand shooting champion and is a keen recreational hunter.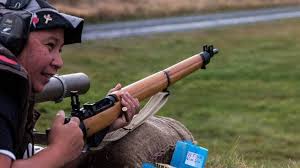 Nicole McKee –
a four-time New Zealand shooting champion.
Footnote: Nicole McKee's speech can be seen on "Waikanae Watch" website where comments can be made