New Zealand's Predator Free 2050 programme aims to eradicate key introduced mammals to the country by 2050 in order to conserve endangered species.
This eradication programme using slow killing poisons, causes a prolonged death agony of intense suffering for millions of animals. Besides target animals such as possums, rats and stoats, poison victims also include native endangered birds, farm animals and companion animals, in particular dogs.
Dr Koen Margodt, JGI Global Ethics Committee Chair in an in-depth study has argued the Predator Free concept is unethical, unnecessary and unrealistic. He has called for an immediate ban on the poisons, i.e. 1080 and brodifacoum and states that the Predator Free 2050 programme has a one sided focus on introduced mammals rather than considering other causes such as habitat destruction and dairy farming which are greatly impactful. In his study Koen Margot recommends the New Zealand government should invest in alternative, compassionate conservation solutions.

Dr. Koen Margodt
What is 'Predator Free 2050'?
In 2012 the late physicist Sir Paul Callaghan called for an 'Apollo Programme' for New Zealand, which was namely the elimination of introduced mammals which were held responsible for bringing many native species in jeopardy. The work by the Parliamentary Commissioner for the Environment, Jan Wright, has been the main catalyst resulting in the PF 2050 strategy. Wright has directed the attention to possums, rats and stoats in particular, which she describes as an "evil triumvirate." Wright recommends eradicating these animals by using the poison 1080, which is seen as the only cost-effective solution to reach this target. PF 2050 has been called "the world's most ambitious predator management programme" by then Minister of Conservation Maggie Barry. The goal of this programme is indeed enormous, given the large size of New Zealand.
It is beyond doubt that many species in New Zealand are threatened with extinction. In a 2010 study of 179 countries, New Zealand holds the worst place in terms of its proportion of threatened species (reference Bradshaw et al., 2010: 8).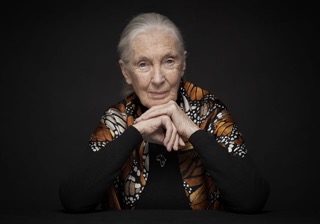 Dr Jane Goodall – devastated by cruel methods such as poisoning
During lectures in New Zealand, eminent British scientist Jane Goodall was asked repeatedly about her thoughts on the killing of introduced predators. While recognising the impact of introduced species, Dr. Goodall called for finding more humane ways than poisoning.
Dr. Goodall commented"For many years I have been devastated by the cruel methods used to kill predators because of their supposed danger to livestock or human life – such as leg hold traps or poison baits. Only too often the targeted animals die slow deaths in extreme pain. Moreover, other non-target animals are often killed in the same way.
"The campaign in New Zealand to exterminate all non-native animals in order to save the country's unique indigenous species from invasive species who were introduced, intentionally or unintentionally, relies on the use of poisons which are known to cause intense suffering and agonising deaths. As I read more and more about this plan I became increasingly concerned. And I was deeply shocked when I learned that school children were told that possums were evil and taught to kill them in any number of cruel ways."