Opinion by Charles Drake
As a swinging voters with no party ties, I am weighing up my options and each day or week for next year's general election, and examining ideas emanating from the political parties. For instance subjects like foreign ownership whether by investment with capital or acquisition of resources such as farmland. Subjects like global warming, or rather the new title of climate change and the delusion of some extremists, to be world leaders in stopping climate change.
Kinda reminds you of the Peter Sellers' film, "The Mouse That Roared", doesn't it?
Looking at the parties, both National and Labour are determined to increase the foreign ownership of New Zealand land and natural resources.
The Green Party in its ideological dreamy daze seems not to have an opinion on foreign ownership of resources.
Then there is ACT. What is ACT's policy now? ACT founder Roger Douglas of Rogernomics notoriety was enthusiastically for foreign investment/ownership.
In essence, foreign ownership and control of a nation's lands and resources is colonisation now just as it has always been in history.
Today this colonisation is by foreign owned corporations rather than governments but it is the same thing and has the same adverse consequences for the people of New Zealand.
Foreign Intrusion
Climate change is being used as an excuse by the political elites in the National and Labour parties to manipulate the people to accept this colonisation and ownership of our lands and natural resources by foreign entities.
There is climate change. But climate change is natural; it has always happened through ice ages and naturall warming periods.
The question is what is Man's effect irrespective of natural cycles?
Perhaps the actions of our species might have some influence on climate? Either way there are severe environmental problems caused by humans. For example rivers, streams and aquifers and nitrates.
BUT on climate change there is no real crisis or emergency.
Simple Fact
The actions and activities of the people in New Zealand do not have any significant effect on the global climate.
In reality, if a proper accounting for the CO2 and methane produced versus the CO2 taken up by all the existing vegetation in New Zealand was done, we are probably already reducing rather than increasing the global "emissions".
There is a very simple fact that people will soon have to confront.
The working people of New Zealand and our future generations cannot afford the costs of this foolish ambition to "be the world leaders in fighting climate change".
The costs will not only be increased taxes, increased debt, increased costs of living, economic failure and poverty.
This foolish ambition is also going to cost us our lands and natural resources that will be taken by the "global corporate colonialists" such as the corporate carbon "farmers", often foreign based, who will plant environmentally detrimental monocultures of pinus radiata.
History Repeats
The majority of people that are opposed to what is being forced on them will not be listened to by the elites in the National, Labour and Green parties that are enabling this colonisation and ought to know that by now.
Unfortunately the majority of people seem to also lack the intelligence and courage to stop voting for the same "popular" political parties and the political celebrities that represent and serve their elite members and funders.
Really the same thing that happened to the Maori in the 19th century, is happening all over again in the 21st century.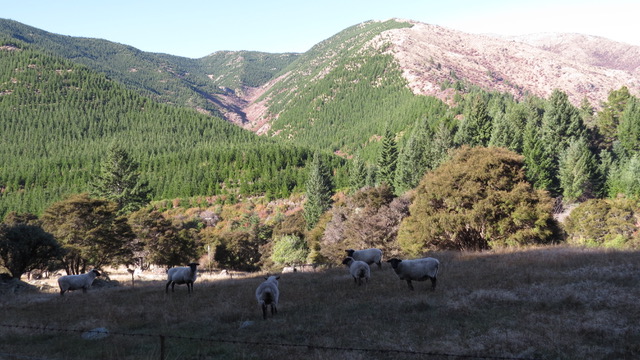 Monocultures of pines, Waihopai valley, Marlborough by a Malaysian-backed corporate, for "carbon farming"