Below are extracts from an editorial in the New Zealand Deerstalkers' Associations magazine "New Zealand Wildlife" Autumn 1973 issue. John B Henderson then NZDA's national president was the author.
The previous year, the National government had been trounced at the polls by Labour led by Norman Kirk. Elections have common characteristics with issues like housing, health and cost of living paramount but the 1972 election was very much focused on the environment and outdoors with issues like the raising of Fiordland National Park's Lake Manapouri to supply foreign interests with cheap power for a smelter, trout farming and rich foreigners seeking bolt holes and to exploit fishing and hunting values.
John Henderson's comments seem to us, to be pertinent to next year's election.
Three (four or five) Waters for example, isn't that environmental? And issues like public ownership relevant? The relinquishing of the people's Urewera National Park? The plundering by corporates under the QMS of the public's sea fisheries? The top-dressing of public lands with eco-toxins? Nitrate poisoning of rivers and people's drinking water by government – aided corporate dairying expansion? Phobic pest policies? Futile firearm laws aimed at disarming the law abiding public. And the list goes on – just like it did at the 1972 election.
If there were any doubts in the past that the great public debates involving the environment, conservation and outdoor recreation were political issues, then the hard lessons driven home by the 1972 general election should have dispelled them for all but the myopic.
An entrenched government – National – paid the price for the many forms of environmental destruction that they were either directly responsible for or which they had allowed to happen and for their neglect, were unceremoniously bundled out of office. To be sure the cost of living was a major election controversy, as was housing, social welfare ——political TV, radio and press commentators failed at the election and subsequently failed to recognise and understand the real concepts that are at stake for our society, then it just goes to show how poorly we are served by news media controlled either by big business, big politics or big bureaucracy.
That one party took notice and the other didn't is now political history and a measure of the way in which Governments can overlook the public interest.
Did the previous government –think they fooled us with their attempts to discredit persons and organisations —secret negotiations with respect to public land, the sale of first class land to foreign absentee owners —did they catch one single vote in that long, immensely costly and stupid trout farming debacle —could they not understand the frustrations of thousands — over commercial and foreign interests that are trying to make a business ir rich man's playground out of outdoor heritage and deny access to New Zealanders?
The fact remains however that the conservation lobby especially the large group of outdoor recreational interests, has adopted a political stance—And that us as out should be in an age of pressure groups, big business and overseas control – when our environment from any angle one views it, is under threat of plunder and when our traditional and free and easy New Zealand way of life is under siege.
To those naive souls who continue to bleat that conservation and the outdoors don't mix with politics, I say that is precisely what those who pull the big strings want you to believe.
You will continue to believe and thus do so at your peril.
When a democratically elected government is given by its people, full control of the financial and administrative, legal and economic machine, then it must not be allowed to opt out of its responsibility ——If the system fails, it is because government has failed.
Politics and the environment are nothing more and nothing less than cause and effect.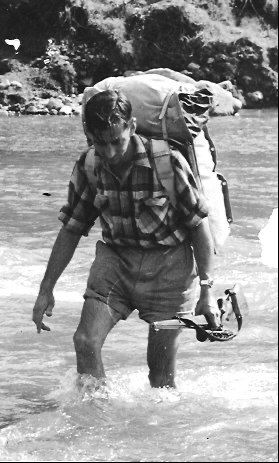 John Henderson in 1950s, heading into the Tararua Ranges