Opinion piece by Pete Watson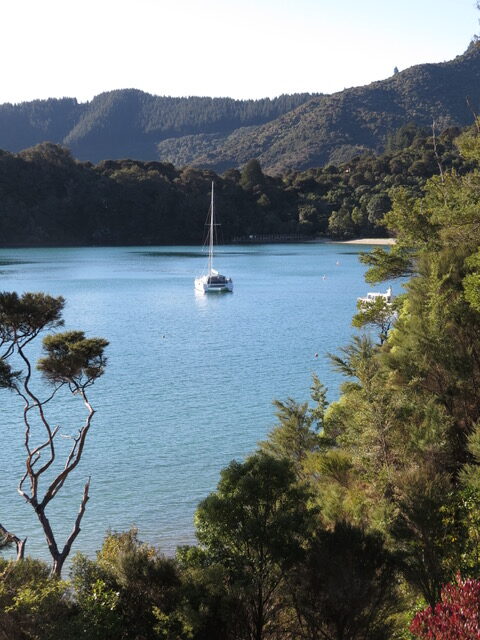 Beneath the idyllic, calm waters the Marlborough Sounds, is a serious problem
There was a recent article (Dec 7) entitled "Three Quarters of Marlborough Forestry Blocks Fail Initial Check" and written by Maia Hart.
It raises serious questions such as why do we continue to travel the same dusty old road that has disastrous consequences for residents, roading, rate payers and most importantly the environment
From as far back as the 1980s Marlborough district councillors have had report after report put in front of them advising that our forestry techniques and areas planted are having severe consequences for the environment. This has now evolved into consequences for adjoining land owners and our roads as seen in the last weather event. The bulk of roading damage on the state highways during the last flood was due to inept forestry practices that the rate payer then pays to repair.
The congratulatory statements made by councillor David Croad in this article is just another shuffle of a report followed by a pat on the back around the coffee pot.
When will we see some real answers to the disastrous effects this posturing allows to occur?
Some examples of the disastrous state of the environment of the Marlborough Sounds are listed below, yet everyone will still believe the Sounds to be pristine and well cared. However this is so far from the truth that it infuriates those of us that have been bringing examples to councillors for the past twenty years.
When Port Underwood was logged in the 1990's The Marlborough District Council accepted advice that there would be a siltation layer of siltation but so insignificant so that the Sound would disperse it quickly. When nearly 1.5 metres of siltation turned to mud and choked the life off the sea floor, council turned a blind eye to the reality. The damage is still very evident today and now we are harvesting logs in the area again with the same destructive methods.
Mud-filled Mahau
The Mahau Sound that in the early 1980s was a sandy bottom and commercially scallop fished now in its entirety, has filled in with mud and silt mainly coming from the Pelorus river catchment. Nothing lives on the now very shallow Mahau sound. I personally dived recorded, and filmed the poor state of the Mahau sound in 2018 showing how bad it was but gained little support.
The Kenepuru Sound has been photographed from space showing how discoloured the water is from silting year round. The Kenepuru and outer Pelorus Sounds once a haven of food, is as well choked with mud and silt.
The bottom is lifeless.
Yet only 70 years ago – one generation – the Kenepuru produced blue cod, mussels, crayfish and even paua a Kaitiaki advised me. The weed has gone, the habitat has gone and so do all the species that rely on the food chain. At least the mussels that choke the last remaining life from the Kenepuru sound appear to thrive on this poor water condition.
I live in the Kenepuru Sound and a few years ago applied through correct channels to place a mooring for my property. Part of the process was to give a report of the bottoms life forms that placing the mooring could damage. Samples were gathered at the site which I then had the pleasure of handing to a colleague in the battle for our Sounds Dr John Leader – a marine biologist. His report was alarming and surprised even him.
In the report Dr Leader supplied to council, it was advised that he could find no living entities and in fact that no organisms could survive in that habitat composition I supplied him. This in itself a damming report of course went no further.
In 2015 in my capacity of President of Marlborough Recreational Fishing Association we gained a 20 second slot on a one news report into National's proposed Recreational Fishing Park of the Marlborough Sounds. Instead of delivering a flowery praise of the idea we instead pushed how the sea bed of the public's Sounds is now a toxic environment and that closing areas off will not work unless we change our ways in regards to land based operations that are doing the damage.
Swift Reaction
Reaction to this one news report was swift from the forestry sector who instead shifted blame to residential development. If our ineffectual council had jumped in at the time, then the can of worms would have been opened leading to some more positive change but once again passing-the-buck happened. Our local Government blamed central government and stated their hands were tied. Yet central Government blamed the Marlborough District Council and stated under environment protection laws council could stop sitting on their hands.
In 2015 and 2016 scientist Mr Rob Davidson who was funded by council, presented reports to sitting councillors. One presentation by Mr Davidson was filmed and uploaded to U-tube for a short time. The then councillors were aghast at the damage that was being done, had been done and was continuing to be done. Evidence provided by Rob Davidson over a ten year period was of monitored ecologically significant sites in the Sounds. Eighty-five percent was permanently destroyed and gone forever.
In other reports Davidson stated that it was demoralising and devastating the impact anchoring, bottom trawling and forestry was having on the ecology of the seafloor of the Marlborough Sounds.
Yet has council done anything, has it acted on the council's own paid science, has it even edged closer to just one councillor saying enough is enough?
Nothing has happened except silence once and inertia.
Why ?
A good way to move forward is to focus on preserving the little left not on what has been lost yet still nothing is done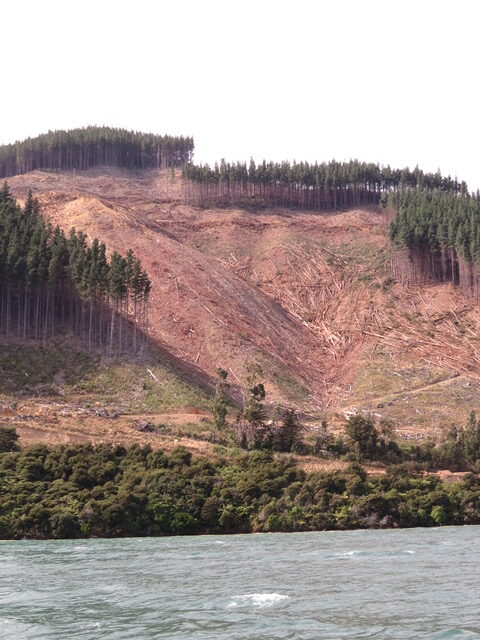 Clear Felling leads to heavy silting of the Sounds – Pelorus Sound
Change Ways
Forestry is here forever. That's undeniable but at some point we need to change our practices. I have personally sat in on a presentation done by a company showing how they could extract forests in the sounds using an aerial technique from felling to a barge and not drag trees across the land causing the silt run off.
Similarly European practice is to harvest logs in two cuts, felled along contours, twelve months apart. Yet these proposed methods that are in practice in other countries have been ignored and clear felling continues. Visiting diplomats on a salmon farming visit from Norway were aghast at our landscape after clear felling that they witnessed from through to Picton that they witnessed. One stated that in their country if this was done people would go to jail.
So why council does not change to much less destructive logging methods used overseas is baffling. Recently NIWA published a report showing that after spending many more millions they could see from satellites that the Sounds is under heavy pressure from siltation mainly caused by forestry.
Well, scientists in over 15 reports since 1980 and the Marlborough Recreational Fishers' Association and individuals have been telling council, central government and anyone that pretends to be in charge, of this disaster of the plight. It seems council doesn't want to know. Disowning the Jewel?
Does the Marlborough District Council disown the Marlborough Sounds?
Council and today's sitting councillors need to grow a voice, as the silence borders on cowardice and preservation of a "cushy wee well paid job."
Enough is enough.
Stop hiding behind the statement "we need more science. "
Council has had over 15 scientific reports and continue to receive the science and growing public concern.
Please do something towards repairing the environmental and ecological destruction. It will take generations to repair so start now and perhaps yours and my grand children will see in person, how once the Sounds was and not by looking in a history book at the library
Footnote: Peter Watson is a Marlborough Sounds advocate and conservationist